Chose Your Own Adventure Books - Welcome Back!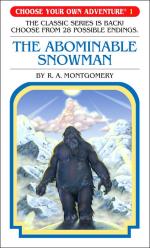 Sandwiched somewhere between Tintin on the left, and Bunnicula on the right, the line of Chose Your Own Adventure books were the missing links of children literature. Sure, you weren't really reading an entire book at once, but with CYOA's you explored 'literature', playing through a book like it was a game. There was something so very new and exciting about that.
Then just as suddenly as a suspended vat of acid spilled and killed you off on page 64, CYOA books disappeared from the face of the Earth. It was bizarre - they just upped and vanished like they were part of Steve Guttenburg's private library.
But now they're back. It's 2006 -- holy smokes and Happy days. Kids the world over can bask in the same young-adult lit freedom that broadened our minds some 20 years ago. We might pick up a few copies ourselves for old time's sake.
Barnes and Noble has exclusive rights to 18 titles available today from their online store, and the books will be available from other retailers near the end of May.
From an official press release by Shannon Gilligan, Executive Vice President of Chooseco "For over 25 years, CHOOSE YOUR OWN ADVENTURE has captured our imagination and our spirit for adventure as we have read and collected the many treasured volumes of this series. These unique books empower and challenge 7-12 year olds with decision-making throughout each story. After initial publication in 1980, the series quickly became a cultural phenomenon. The interactive adventures feature multiple choices, multiple endings, and countless story variations with "you" – the reader – as the protagonist of the story. The Choose Your Own Adventure books have over 250 million copies in print worldwide, and each book of the first 15 titles is at least a one million copy bestseller. Featuring new illustrations and covers, all of the texts have been updated for a new generation to reflect technological advances, recent historical discoveries and current political realities."
Read More in: Gaming Culture | Gaming News
Share this Article with others:
Related Articles:
Came straight to this page? Visit Critical Gamers for all the latest news.
Posted by Critical Gamers Staff at March 23, 2006 3:45 PM