"Catan Live" Wednesday May 2nd, 2007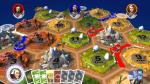 Those of you who keep on top of things - like today's date - should immediately realize that Wednesday May 2nd, 2007 is only two days away. And it's about time.
Only two days until the first major board game release hits XBox Live for the XBox 360 console. And with many more Euorgames and American board games on the way, this is only the beginning. Here are the official details as presented by Xbox Live's Major Nelson:
"Catan" for Xbox LIVE Arcade puts players in the role of colonists on a newly discovered island, where they vie for control of valuable territory and resources through strategy and trading. The game can be learned in just minutes, but will challenge players of all skill levels, even the experts!

Klaus Teuber, creator of the original Settlers of Catan board game, had this to say about the collaboration with Big Huge Games: "I had no doubts that Brian Reynolds would do a great job, and the first version of the game exceeded my highest expectations. The AI is so clever that I even lost several games in a row! Hands down, this game for the Xbox LIVE Arcade is an amazing achievement."

"Catan" will be available worldwide for 800 Microsoft Points and is rated E for Everyone."
More information can be found on the Catan Live Official Website. We'lll see you in-game on Wednesday night. Woot!

Read More in: Board Games | Gaming Culture | Gaming News | Variants
Share this Article with others:
Related Articles:
Came straight to this page? Visit Critical Gamers for all the latest news.
Posted by Critical Gamers Staff at April 30, 2007 3:46 PM