Carcassonne Live Preview on TeamXbox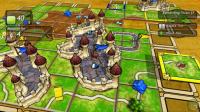 Sweet digitty. While we've anxiously awaited the release of Catan Live for XBox 360 online service, we've totally forgotten that Carcassonne is also getting an online treatment as well. We would feel more ashamed that we've neglected one of our favorite Eurogames from the list of new board game titles for Xbox Live, but the details of the upcoming Carcassonne Live release have been kept so hush-hush that it simply slipped off our radar.

But now we have some pretty detailed screenshots of the release scheduled for this June. It's colorful, but to be honest: we feel that there's a bit too much eye trickery going on here. The 3D cites make our eyes go all googly like we were just hit on the head from behind with a case of scotch.
Hopefully the game's visuals will be a bit easier to understand once we play it in person. Speaking of playing the game in person, where the heck is our "March" release of Settlers of Catan? Sheesh

Read More in: Board Games | Gaming Culture | Gaming News
Share this Article with others:
Related Articles:
Came straight to this page? Visit Critical Gamers for all the latest news.
Posted by Critical Gamers Staff at April 15, 2007 4:22 PM