Battlestar Galactica RPG Details Released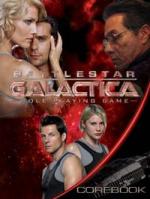 Margaret Weis Productions has finally lifted the veil on the upcoming Battlestar Galactica Role Playing Game, a title that was scheduled to launch back in July of this year. But don't let the schedule slip cause you to fret too much B Star Fans, the game isn't in a state of perpetual delay: both the Battlestar Galactica RPG Core Rule Book and Quick Start Guide are slated for a release at the mammoth Gen Con Game Fair in Indianapolis on August 16th [source: GamingReport.com]. That's only two short weeks away. Following the conference, the Battlestar Galactica RPG will ship to stores in September.
Besides the affirmation of a release date, we're excited for a plethora of other reasons:
The Battlestar Galactica RPG is being created by the same group who made the Serenity RPG. We're big Firefly / Serenity fans here, and though we've never played the Serenity RPG, we've heard some good things.
Winter is coming, and that's RPG season.
We've grown to love the BS:G television series like a raving lunatic loves shiny things.
Due to expenses, the upcoming season of B:SG starting in January 2008 will be the show's final season. Yes, it's true. This stinks.
The prequel show "Caprica", which was supposed to take place leading up to the first Cylon War, has been tabled indefinitely. Probably for the fear that it, too, will have a ginormous budget.
That means that – as of right now - the only thing carrying the BS:G torch is this RPG. Honestly, that tickles our fancy – to be placed in control of the modern science fiction's evolving plot lines just as the show ends. It'll be fresh in our minds, and we'll be craving for more, and here we have our outlet.
You can preorder and read more about the Core Rulebook and Quickstart Guide at the Margaret Weis Productions' webstore [link]. And of course we'll have an update with any news that comes from the floor at Gen Con in a few weeks.

Read More in: Gaming News | RPGs
Share this Article with others:
Related Articles:
Came straight to this page? Visit Critical Gamers for all the latest news.
Posted by Critical Gamers Staff at August 8, 2007 2:18 PM