Battlestar Galactica CCG - Building Military and Political Decks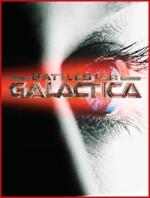 The official Battlestar Galactica Collectable Card Game website hosts two more feature articles about deck construction for the upcoming BS:G CCG release. Winning the Political Way is a very detailed description of a deck built to win the Influence game by hitting the triumphant 20-Influence high water mark. The deck also makes use of the "Manipulate" mechanic to stymie an opponent's military capacity in combat (remember that the victim of combat loses Influence points, and you're Colonial flotsam when your influence reaches zero).
When the game ships (which is like, nowish) there will be only one other major way to defeat your opponent - through military force, and that's where Building a Military Deck picks up where 'the Political Way left-off. Here, author Brook Willeford designs a deck around Security cards (read military cards) including famous personnel like show favorites Adama, Apollo, Starbuck and lesser characters like Helo, Gopher, and Joey Joe-Joe Shabado Sr (who cleans up C-Deck on third shift).
It's a shame that Willeford didn't hyperlink the card names to their online card database, because the articles fire a barrage of card names at the reader without any details about what each card actually does. Still - even without the juicy details these articles serve as great examples of deck construction, and more importantly how BS:G will play in a game session.
Read More in: Collectable Card Games | Gaming News
Share this Article with others:
Related Articles:
Came straight to this page? Visit Critical Gamers for all the latest news.
Posted by Critical Gamers Staff at May 25, 2006 9:15 AM