BattleLore Ships to Retailers, and Tom Vasel Reviews It
It's official. According to a post on November 29th, 2006 - which is yesterday - Days of Wonder has boxed and stacked their Holiday baby on flat bed trucks, and BattleLore is en route to distributors across North America and Europe (we assume there's a boat or a jet involved somewhere, too). If you've already preordered BattleLore [Funagain] then you can expect the war game to be unpacked on your dining room table by the end of next week. Probably even earlier.
We've heard that BattleLore might be so well-received by the gaming community that this single release will have a noticeable impact on the direction of the board gaming market for the next few years. We'll soon see if that's all prerelease-hype, or if we really are on the verge of a title that enormous and ground breaking.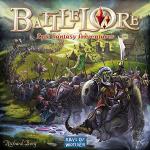 Thankfully Tom Vasel - the game reviewing machine - has already some left clues pointing to the potential success of the new wargaming system. He's posted a very, very positive - and very interesting - review of BattleLore on Boardgame News. Definitely worth your time if you or your friends are thirsting for a new war game experience.
BattleLore is said to officially ship on Monday, and it's available to preorder from Funagain Games.

Read More in: Board Games | Gaming News
Share this Article with others:
Related Articles:
Came straight to this page? Visit Critical Gamers for all the latest news.
Posted by Critical Gamers Staff at November 30, 2006 9:09 AM