Battle Forge Enters Open Beta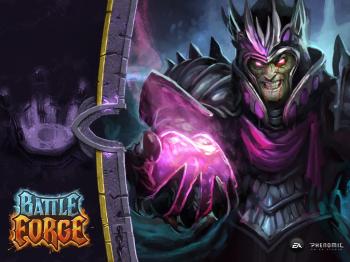 Alright computer gamers listen up: the Massively Multiplayer Online Real Time Strategy Collectible Card Game - or MMORTSCCG for 'short' - Battle Forge has launched an open beta test. That means you can play the game, put it through its paces, and consider your interest without having to pay a dime.
Battle Forge is much like Saga, another MMORTSRPG if you recall, in that your given control of monsters slugging it out over a map in real time. Click on forces to tell them who to attack, and what positions to capture and defend is all part of the standard RTS genre. Add on top of that the CCG elements your card collection, which allow you customize your forces with powerful monsters, spells, etc.
That's a lot goign on, so here's our acronym primer:

MMO aspects: Play with or against friends, persistent collection of cards, online communities.
RTS aspects: Real time battles controlled with the mouse, like the recent Warhammer 40K Dawn of War 2
CCG: Collect virtual cards that allow you to create monsters and cast spells around the battlefield, and bust some heads
Unlike last year's Saga, this year's Battle Forge is backed by one of the largest publishers in the computer game business: Electronic Arts. They have their own global megacorp / lowest common denominator drawbacks, but their size also means this game should have lasting staying power. The original release will contain around 200 monster and spell cards. Beyond that EA has gobs of developer and art resources they can easily devote to releasing new sets of cards quite frequently, and we hope they shall.
For more information check out this Battle Forge Trailer, or head on over to their website to download the PC client. You could also checkout yesterday's press release announcing the public beta, or you could just read the juicy parts we've lifted:
---

... BattleForge combines strategy, fantasy, trading cards and magical spells in a dynamic online environment. The game gives players use of virtual trading cards to build the perfect army and lay waste to their foes. Combining the strategic, real-time gameplay of classics such as Command &ConquerTM with a fully enabled, online collectible community, BattleForge is a breath of fresh air in the strategy genre. With an all-new style of play that is more accessible for casual gamers, BattleForge still offers the depth of gameplay that more sophisticated RTS players seek. The collectable cards are the tools of war -- each representing a spell, building or unit that is conjured directly onto the battlefield.

BattleForge features single-player and cooperative scenarios, as well as Player vs. Player (PvP) ranked and unranked duels. With co-op play, guilds, chat rooms, and a robust marketplace featuring direct trade, an auction hall, and in-game mail, BattleForge is the first RTS to combine the social and community aspects of an MMO with an exciting RTS. Let the battles begin!


---
Battle Forge ships March 24th, which is only two weeks away. We assume that the beta will probably end a few days before that, so iIf you're looking to try before you buy, then act quick! Oh, and also submit reports about any bugs you find, 'cause that's really supposed to be doing in a Beta Test. *cough*
Read More in: Gaming Culture | Gaming News
Share this Article with others:
Related Articles:
Came straight to this page? Visit Critical Gamers for all the latest news.
Posted by Critical Gamers Staff at March 11, 2009 5:44 PM