Bang! Now Available at Amazon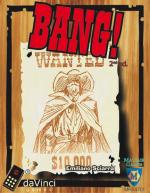 The popular card game Bang! [Amazon] published by Mayfair games has finally been pushed up to Amazon.com. Players are assigned roles in a Western gunslinger theme: Sheriff, Outlaw, Deputy, and Renegade. Each role is kept secret and has a unique victory condition. For instance, the Sheriff has to kill all of the Outlaws, the Renegade has to be the last to survive.
It's a regular Good, Bad and the Ugly.. with a Deputy side-kick thrown in for good measure.
From the back of the box:

"The Outlaws hunt the Sheriff. The Sheriff hunts the Outlaws. The Renegade plots secretly, ready to take one side or the other. Bullets fly. Who among the gunmen is a Deputy, ready to sacrifice himself for the Sheriff? And who is a merciless Outlaw, willing to kill him? If you want to find out, just draw (your cards)!"
Bang! has been out for a few years now, so it's a bit late to Amazon's stage. If the Amazon reviews don't fill your engine, then checkout Bang's page at BGG. It's chalk-full of useful information and user critiques.
Read More in: Card Games | Gaming News
Share this Article with others:
Related Articles:
Came straight to this page? Visit Critical Gamers for all the latest news.
Posted by Critical Gamers Staff at April 18, 2007 4:37 PM