Axis & Allies Guadalcanal Announced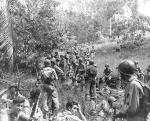 Some very cool news comes our way via a scooping post by BoardGameNews. Larry Harris is continuing his legacy of Axis and Allies work with Avalon Hill, with a new battle-level installment to the franchise ( a series that started with D-Day in 2005, and continued with the Battle of the Bulge in 2006). This time around the element of water is added to the mix, as players now have to balance their resources and equipment across the seas of the Solomon Island chain as they slug it out in the battle of Guadalcanal.
The gritty details of the game are still up in air. At this point he most detailed information can be found on the Axis & Allies 2007 release schedule page of the Avalon Hill website.
"A sweeping conflict in the South Pacific where naval might leads to air superiority. Axis and Allies: Guadacanal challenges you to control sea zones and island groups while managing troop and supply transport and directing land, sea, and air forces in one of the decisive campaigns of the Second World War's Pacific Theater.

Created by Larry Harris, designer of the Axis and Allies board game.
Incorporates crucial elements that were key factors in the historical campaign, such as air strip construction, troop and supply transport, and furious land, sea, and air battles.
Introduces the Cruiser unit as well as mechanics for land, sea and air combat in the South Pacific using a randomized casualties system.
Provides fans with the historical counterpoint to the World War II experience offered by Axis and Allies: Battle of the Bulge.
Available September 2007"
We'll keep you posted as any more news about the title comes our way.
Read More in: Board Games | Gaming News
Share this Article with others:
Related Articles:
Came straight to this page? Visit Critical Gamers for all the latest news.
Posted by Critical Gamers Staff at April 20, 2007 3:48 PM