A Song of Ice and Fire Wargaming System Announced!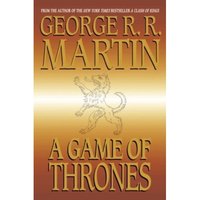 In an unexpected move publisher Fantasy Flight Games has announced that an upcoming themed franchise of the BattleLore streamlined war game system is going to take place in the intriguing fantasy world of the G.R.R. Martin novels A Song of Ice and Fire. Dubbed the Battles of Westeros. The first core set will pit the two major protagonist and antagonist houses against each other on a configurable battle board with multiple scenarios and units lifted straight from the novels.
Here are the first details:
---

"In this epic board game of battlefield tactics, players control either House Stark, the wards of Winterfell who have called their hearty allies to defend their honor and lands, or House Lannister, an aggressive force funded by Casterly Rock's endless supply of gold.

Featuring over 138 detailed plastic figures and bases, 110 cards, a gorgeous double-sided six-panel board, over 32 map overlays, and much more, Battles of Westeros provides everything players need to relive the excitement and intrigue of the wars for the Iron Throne... and with their favorite Stark and Lannister characters."

---
Currently there isn't much meat and potatoes behind the details of this release, but that doesn't matter. The mix of the proven, customizable and extendable BattleLore wargame system with theme of G.R.R. Martin's novels had us at "hello."
For more information check out these two feature articles, and the official product description:
We'll keep you apprised of the nitty gritty details as we get closer to release later this year.
Read More in: Board Games | Gaming News
Share this Article with others:
Related Articles:
Came straight to this page? Visit Critical Gamers for all the latest news.
Posted by Critical Gamers Staff at February 25, 2010 4:00 PM