Pop Quiz: Would You Survive a Zombie Apocolypse?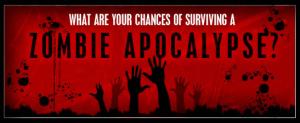 Answering the quiz honestly, one of our top scores was 80%. Most of us are considerably lower, with a 59% average. How would you do if the zombies started munching brains in your neighborhood?
The quiz is one of a large suite of quizzes hosted by a dating / social website called OnePlusYou, with which we have no affiliation, which serve as icebreakers for meeting new folks. Other quizzes are "How Long Could You Survive in the Vacuum of Space?" and "Would You Make a Good Human Shield?" -- two icebreakers that should top any well-polished first date question list.
Read More in: Gaming Culture
Share this Article with others:
Related Articles:
Came straight to this page? Visit Critical Gamers for all the latest news.
Posted by Critical Gamers Staff at June 12, 2008 2:13 PM