Top 5 Halloween Games 2007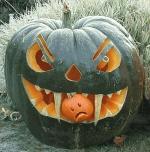 The weather just turned all overcast and rainy up here in New England, and when darkness fell as the sun set at about 3:30 pm it suddenly struck us: Halloween is just a few weeks away. Something about the cold rainy weather of autumn complements the theme of fighting undead beasties, and that's a-ok with us. Our game nights for the next few weeks just went into zombie / demony / vampire slaying-fest mode.
Here is our select top 5 games to throw down for the 2007 Halloween season. Some of our choices might surprise you, but hey toughen up -- it's freakin' Halloween ya pansy. Close your eyes and stick your hand in this bowl of eyeballs, or even better read on to see our selection for this year.

5: Buffy the Vampire Slayer [Funagain]
Bet you didn't' think we'd kick off a top 5 list with a TV-tie in, but you shouldn't dismiss this fantastic title as just a cheap cash in like. Fans of the TV series will find one of the best theme tie-ins, while non Buffy fans will find a considerably difficult – and thus rewarding – cooperative gameplay experience.
One player controls one of the arch villains from seasons 1-4, while the other players must band up as the Scooby Gang to bring him down. The heroes are fragile, and individually are to specialized for their own good – but smart planning and careful cooperation can lead to a very gratifying victory.
Unfortunately most online game stores don't stock this title anymore so it's a genuine find on ebay or in a hobby shop near you.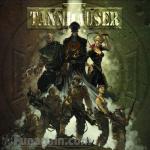 4: Tannhauser [Amazon, Funagain]
This one goes out to the strategy players. Tannhauser paints an epic alternate history of WWI – a war that has stalemated is now bleeding its way into 1940 – and the race between German occult units versus American special forces. The Germans are trying to open a gateway to Hell and release the demon hordes contained within, while the American forces are all goody goody and trying to stop 'em in close quarters combat. The game sports character customization, streamlined combat rules, and some very dark undertones perfect for Halloween strategery.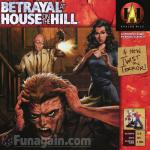 3: Betrayal at House on the Hill [Amazon,Funagain]
A great new classic board game for Halloween, Betrayal at House on the Hill is more fun than it is a mouthful of marbles to say. Players build a haunted house by drawing board tiles as they explore the dynamically created house. The major twist comes later in the game when one player becomes the traitor (hence: Betrayal) who snaps like Johnny with writer's block and tries to kill-off the rest of the players before he's done in himself. Very fun socially, and finishes-up in about an hour which should leave plenty of time for Smilin' Pete to bob for pumpkins.
The game has actually been rebalanced a bit since release. Make sure you check the latest Official FAQ and Updated Rules Errata to make the game has a smoother and more enjoyable experience.
2: Arkham Horror & Expansions [Amazon, Funagain]


For those who are looking to make a night of it there's Arkham Horror, which should last around 3 hours so bring your sack of severed heads. This one is a is an another cooperative adventure game – with no traitor – that has themed around Lovecraft's Cthulhu Mythos. Players choose from one of sixteen investigators who go out on patrol to slaughter baddies. Along the way they fill-out their characters with new skills and weaponry as they attempt ensure the arch nemesis (randomly drawn) doesn't successfully open demony portals into our world to enact their Great Plan: eat all the first born baby heads and remake horrible 1980's TV shows like Webster, Small Wonder, and Cardsharks on primetime network TV. *shivers*
The game has also had several expansions since release: Dunwich Horror, Curse of the Dark Pharaoh, and The King in Yellow; so this ones an investment which you can keep fresh throughout the years and for each Halloween Season for quite some time.
1: Last Night On Earth [Amazon, Funagain]
The latest and greatest board game in the Zombie genre, Last Night on Earth hit the shelves this fall with some of the highest production values for a zombie game to date. Actors play the roles of the characters and pose in numerous zombie infested scenes throughout the game's glossy materials. Oh and it's FUN. This survival game that mixes up in between plays and doesn't stagnate as much as the recently usurped zombie flagship title Zombies!!!.
In Last Night players chose one or more of the main characters –with different skills and abilities - who race across the map to slaughter undead townsfolk and search for new weapons and useful items. The winner is the player who kills the most zombies before sunrise. One player acts as the zombie master, rising the dead and pushing them into ambush positions to bring each of the players down. Simple and fun, Last Night is a slick z-game that wraps up in around an hour with enough gaminess to interest even the zombie non-believers.

Read More in: Board Games | Gaming Culture | Our Game Reviews
Share this Article with others:
Related Articles:
Came straight to this page? Visit Critical Gamers for all the latest news.
Posted by Critical Gamers Staff at October 10, 2007 4:15 PM