The Least Crappiest Dice Ever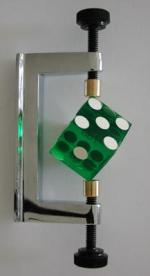 Here's an interesting article by a Simon Tatham, a man with quite a bit of time on his hands. Simon has set-out to create a unique style of dice that produce the values of 2-12 across the same probability distribution as a normal set of dice, but remove the number "7" from the mix of results. Turns out that the process isn't very easy. Those without interest in math might want to close your eyes.. this could get messy.
By now, if you're not asking yourself "why the..? This guy is nuts!", then drink this chalky substance and try to relax -- your head is second in-line on the examination table.
It turns out that Simon and his friends play quite a bit of Settlers of Catan. His group despises rolling sevens (the most frequently rolled number) in the early game because it activiates the game's Robber character instead of producing resources. This slows down the early game too much for their tastes, and instead of optioning to take the time to re-roll the dice, this mathamagician created his own version of a pair of dice where seven simply doesn't exist.
It seems obsessive but the design of the resulting dice pair is pretty cool.
Read More in: Gaming Culture
Share this Article with others:
Related Articles:
Came straight to this page? Visit Critical Gamers for all the latest news.
Posted by Critical Gamers Staff at June 19, 2006 10:09 AM