This Fallout LARP is Off the Hook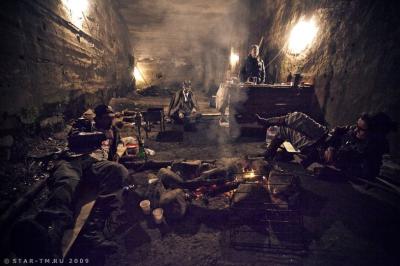 This morning we stumbled upon this amazing series shots from a Fallout LARP that went down last month in Russian. Now, don't get us wrong and don't read into the future content of this website ; we wouldn't even think to set foot in a LARP machine unless there were piles of cash some seriously hot chicks waiting inside (that's the American way). We love games and all, but there's one thing to play them, and it's another to want to live in them.
Still, some of these shots are so darn cool looking... almost like a scene from a full fledged Fallout 3 movie from the backlot at Universal. But these are people who made their costumes with their barehands. Dorky, sure, but artistic talent abound.
Of course, our admiration and suspension of disbelief is unsuspended when coming across evidence of the apparent dorkiness of some these people. We don't mean to bust on them, but ... dunno.. it's almost required if you want to cover your butt against the cool police.
Read More in: Gaming Culture | RPGs
Share this Article with others:
Related Articles:
Came straight to this page? Visit Critical Gamers for all the latest news.
Posted by Critical Gamers Staff at July 6, 2009 3:39 PM