"How The Lord of the Rings Should Have Ended"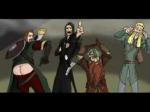 Here's some "sweet crap, the weekend is almost here!" video hilarity for you. It comes from HowItShouldHaveEnded.com, a site of we just discovered that has considerable animation talent.
There are other 'endings' besides LOTR's, too, including "Star Wars Episode IV", "The Matrix Revolutions", "Willy Wonka", and an original montage of sci-fi movies, "Surviving An Alien Attack". But the Lotr ending takes first prize.
All of the movies can be found here.
Enjoy!
Read More in: Gaming Culture
Share this Article with others:
Related Articles:
Came straight to this page? Visit Critical Gamers for all the latest news.
Posted by Critical Gamers Staff at March 31, 2006 10:11 AM