Hold'em Drink Holder - Keep Your Table Liquid-Free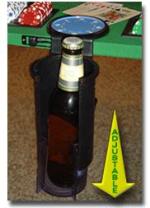 Drinking and gaming goes together like drinking and drinking. It just wouldn't be the same without the drinking. So anything that facilitates the libation process is a-okay with us.. especially if it removes the potential hazards of a frothy brew sweeping across the Sudetenland like a Bavarian tidal wave. If this hasn't happened to you yet, then it just means the potential is mounting for something even more sinister and catastrophic. Yes, Fate will soon close her scissors around that string she's been eyeing, and a tall brewski will tumble earthward onto Army Group B. You've been warned.
Think of the children!

Hold'em clips to your table, safely relegating drinks below the turbulent tabletop surface. Plus, it's adjustable which means it can hold just about any drink container. How could this not be a good thing?
Hold'em is available online from the official website for 15 bucks a pop, or cheaper if you buy a complete set in bulk.
Read More in: Gaming Culture
Share this Article with others:
Related Articles:
Came straight to this page? Visit Critical Gamers for all the latest news.
Posted by Critical Gamers Staff at May 15, 2006 10:24 AM