Halloween Safety Tip #12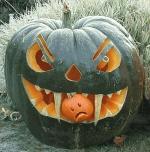 It's Halloween. Tonight the entire nation will be out roaming the countryside and groping around in the black for free candy. Darkness is dark, and stumbling around could be a bit on the dangerous side, so here's some advice for staying safe:
Halloween Safety Tip #12: If you're driving around tonight and see the Angel of Death walking down the street, then don't mow him down with your car. Nine times out of ten that'll be a prize winning Home Ec student in a well-tailored costume sailing over your hood. Trust us - you really don't want that to happen. It's a crap load of paper work, and it'll dent your car up good. Besides, if it turns-out that you roll that 10% chance that it is the Angel of Death, then do you truly believe that throwing a four-door sedan into him is going do anything other than piss him off? This is the guy who snuffed such greats as Genghis Khan and Jack the Ripper for his job, and you don't want him unwinding his day on your civilized, sedan-driving tuccus.

Just keep driving.
The more you know. Happy Halloween folks!
Read More in: Gaming Culture
Share this Article with others:
Related Articles:
Came straight to this page? Visit Critical Gamers for all the latest news.
Posted by Critical Gamers Staff at October 31, 2006 2:02 PM