D&D 4th Edition: 5 Tips for a Good First Session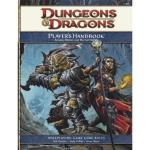 The 4th Edition of the Dungeon and Dragons rules has hit the shelves. We've noticed that the core rules have been backordered in quite a few places, but a second run should hit stores presently.
We though it'd be too obvious to include obtaining a Player's Hand Book as part Top 5 tips, so we won't waste the breathe or the page space. Crap, we just did. Well, we won't include them as part of the enumeration anyway, but know this: those groups looking to streamline character creation and familiarizing yourself with the rules shouldn't use you DM's copy as a crutch. Every player should pick one up; it's for the best.
Having said that, read-on for our Top 5 Tips to make your first few sessions go off swimmingly/
5. Dungeon Tiles
Blue on white graph paper just doesn't cut it when the world of high quality graphics in games and movies constantly assaults our senses, especially when Wizards of the Coast has also been spoiled us with the high quality maps included in the official modules. Unfortunately the provided maps don't cover every encounter, but there's a long legacy of high-quality customizable map packs from D&D 3rd edition already in store shelves now.
The Dungeon Tiles line of goods come on thick cardstock, and can be laid-down to create any sort of map from outdoor fights along a cliff's edge, to dank dungeons with crypts and spider webs. We recommend picking up the Dire Tombs Set [Amazon, Funagain to start - it's got a nice collection of dank underground dungeon bits that should make your first monster romp that much more appealing.
4. Know Your Role
OK, so you've just made a kick-ass Warlock character who's dances in and out of combat to curse, shock and maim, but he's got soft beer-gut underbelly that aches when a kitten kneeds it. Working with your party to position yourself correctly and to work killer combos with the other folks is not only a major facet of gameplay, but it's also a great deal of fun. Talk with your group up front, share you powers and their intended uses, and discuss positional strategy to set goals within each combat encounter itself. As the dynamics of the battle take shape, the combat will become much more rewarding the moment your group seriously starts to click like a well-oiled machine. Heads will roll.
3. Definitely use Miniatures
There is nothing better than looking down at your tactical battlefield with a miniature 3D representation of yourself. Pieces of paper just don't do your battle justice, especially when the heroes start wading through a hordes of skeletal knuckleheads.
We're not a bunch of guys who go around panting miniatures during off hours.. we have better things to do on our Saturdays than sniff paint fumes, and we've had some trouble finding a good set of miniatures to use (see our story D&D 4TH Edition: Where are the Miniatures, Wizards of the Coast?) that aren't exposed pewter. However we popped our head into our second local hobby store just the other day and found a jackpot: Reaper's Legendary Encounter's line. Highly recommended. They're good looking, they're cheap, and you don't have to paint a thing!
2. Play an Official Adventure
The first module Keep on the Shadowfell really kicks it up a notch in turns of module quality for this latest edition. It's not just a booklet anymore but a binder with numerous resources that all come together to bring the adventure home.
The set includes backstories, adventure hooks, the encounters, the monster stats, and the adventure itself of course, which is pretty darn long. You're probably looking at about 4-5 sessions to get through it, unless your group is hard core. The module also ships with a number of folding maps which reproduce scenes of the combat encounters (though not all, hence #5 on our list), and includes quickstart rules and sample characters in case you haven't picked up the Player's Handbook yet. Keep on the Shadowfell is the novice DM's best friend; it does all of the setup for you, and does it in style. In our opinion this is a must have for those groups hitting D&D 4th Edition for the first time.

1. Power Cards Turn Chaos into Ice Cream
The new shift to a suite of encounter power & abilities for each class has been a substantial change to the dynamics of the game. No longer do we just tick off the number of spells the party's Wizard casts in a day, now Fighters, Rogues, Rangers, and even coffee baristas have to organize a list of abilities and track they're availability in each encounter, or rest period, and each day.
The paper work could be mind blowing.
Enter Power Cards: customized slips of paper to track of the state of all these different things. Each player should create a card for every Power that have, from At-Will to daily encounters to remind them of all available powers at their disposal. The cards also players TAP a power, or discard a power from their hand when you used This is crucial to not only maintain state, but also to keep the game chugging along smoothly, especially when you have a lot of players in your group like we do.
We've found numerous templates online, until we've settled on this as The Best Power Card Template this side of the Mississippi.

Use them. Download them, print them, and fill them out - they'll streamline your D&D experience in ways only Keith Olbermann could adequately describe.
Happy Dragon Hunting!
Read More in: Gaming Culture | RPGs
Share this Article with others:
Related Articles:
Came straight to this page? Visit Critical Gamers for all the latest news.
Posted by Critical Gamers Staff at June 23, 2008 5:41 PM