Cursor*10 - Play with Yourself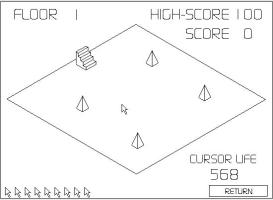 We could tell you what Cursor*10 is, but that would be ruining the surprise. What we can say is that Cursor*10 is a classy piece of Flash gaming who's underlying 'thing' is almost as witty as the 2007 hit Portal. And the graphics are old school - no glitz.
A noble garage-game with a form-follows-function style. We like that.
Read More in: Gaming Culture
Share this Article with others:
Related Articles:
Came straight to this page? Visit Critical Gamers for all the latest news.
Posted by Critical Gamers Staff at January 8, 2008 4:06 PM