Critical Gamers 2007 Holiday Gift Guide - Strategy Board Games
For more great gift ideas across all genres of games please see our
Holiday Gift Guide Index
It's true - the Holidays are coming - and in our ongoing series of 2007 Holiday Shoppers Guides we hope to arm you with the knowledge you'll need to buy that killer game for your friends or loved ones.
In part two of our Holiday Shopper Guides we look into gifts for the Strategy Gamer. These are the folks who grew up playing Chess, Stratego, and the classic Diplomacy, and are now ready for evolved games with better themes and potentially deeper gameplay.
Most of these games are for the more serious gamer who in their mid-teens and up. If you're looking for a title to fit the younger generation or pickup a mainstream game then you should checkout our 2007 Family Games Holiday Gift Guide, which lists some greats games that are more relaxed and interest a wide range of player types. For those of you looking for strategy war games:we ask you to wait until next week when we run down our list of the best war gaming gifts for this year.
But those who want some great standup strategy games then look no further. We've got quite a list here, including many award winners which should satisfy any strategy gamer when they tear off the wrapping paper come late December.
Age of Empires 3 [Amazon, Funagain]

"It is the late 15th century and a new age is dawning. While searching for a new trade route to India, explorers have discovered a new land. The first reports tell of strange creatures, exotic people, and fabulous wealth. Captains and dventurers flock to these new lands in search of gold. They are quickly followed by colonists, soldiers, merchants, and missionaries all seeking wealth of one kind or another. Colonies begin to spring up, and soon competition among the great nations of Europe begins."
And so goes the background story of this fantastic 3-5 player board game adaptation to a mediocre computer game release. Players take on the role of one of Europe's Colonial Powers as they try to setup new economies in the new world. Through the game new frontiers can be settled, and infrastructure built in the Americas to send goods back home. In return the player's capital city returns with personnel rewards and economic bonuses to help drive the Colony to be the strongest in the new World. Technology also advances through the ages as the game progresses, opening up new building options and new gameplay mechanics across the board.
Age of Empires III: The Age of Discovery is a must-have for any strategy gamer.
Awards:
GAMES Magazine Best Advanced Strategy Game Runner-Up 2008
International Gamers Awards Best Strategy Game Nominee 2007

PÜNCT [Amazon, Funagain]

PÜNCT is an abstract strategy game where players attempt to place their pieces to connect two sides of the board. Think Chinese Checkers meets Connect Four – but with far deeper than either of those two games. On any given turn players are given the option to place a new piece, or move one of their own on the board. In this way each player jockeys for position, blocking moves and bluffing advances only to gain ground on the other side of the board. Great stuff.
PÜNCT is actually the final game of Project GIPF, a series of games that was designed to be compatible with one other. Owneders of the different sets can mix and match rule and pieces to create their own variations. Punct – like most games of the series – has won several rewards including GAMES Magazine Best Abstract Strategy Game 2007.
You might sense a theme in our selection process, but no – we didn't just go down the IGA awards list to select our titles. Our selections just happen to be some of the best games out there, and isn't that the point of this list?
Awards:
GAMES Magazine Best Abstract Strategy Game 2007
International Gamers Awards Best 2-Player Game Nominee 2006

Pillars of the Earth [Amazon, Funagain]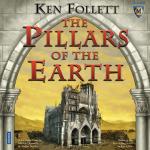 Modeled after the bestselling Pillars of the Earth novel by Ken Folett, the board game adaptation has players running a build site for a medieval cathedral. Players bid on goods and then use their own custom workforce to fashion pieces of the cathedral for prestige.
Pillars is a very dynamic game that builds over a set number of turns to a dramatic conclusion. Each stage dynamically mixes things up by offering randomly available game moves, including the injection of new workers into the work pool which players can hire to augment their own workforce, new characters into the game, and exterior events. Coupled with a slick turn draw mechanic which has players drafting their turn order, no two turns are ever the same, and thus no two games are ever the same.
This is one of our favorites of the year, even inspiring some of us to read the novel – and wow, it's pretty good, too. Heck, Pillars of the Earth even made our Holiday 2007 Family Board Game list, too! Now that's quite the range. For more information of Pillars of the Earth, please see our Pillars of the Earth game page
Awards:
Winner of GAMES Magazine Game of the Year 2008
Spiel Des Jahres Recommended 2007
International Gamers Awards Best Strategy Game Nominee 2007

Imperial [Amazon, Funagain]

It might be a touchy subject given the world political climate these days, but it's still true: War makes people rich. And the new title Imperial from Rio Grande Games makes a stunning game out of that one simple principal. Thankfully all modern politics and ethics can be set aside for this one - Imperial depicts the European political theater a hundred years ago in the early 1900s, just as national tensions began to climb and pressure mounts for the outbreak of World War I. Players of the classic social backstabbing board game Diplomacy will be quite familiar with this period in history, but instead of acting as the diplomatic and military leaders of wartime nations, players act as rich wartime investors - buying and selling stock in countries throughout the war. Whoever controls the most stock of a particular country becomes the commander of both its military forces and its spending policies - at least until he's unseated.
Now although this game has war gaming elements, and a wartime theme, Imperial remains a business investment game at its heart and combat is relatively simplistic – which is why Imperial has landed on our strategy game list instead of our upcoming Wargame list.
There are no dice in this game – which is good for a strategy game in our humble opinion – but the title has a very dynamic turn system that keeps things fresh and opens game mechanics in a surprising way. Players can select one of three free actions per turn, with a rotating wheel dictating what these actions are. These are things like levying taxes, building armies, moving them, etc. When a selection is made, the wheel is rotated so to that position, so 3 more options open up for that player on his/her next turn. And as a nice strategic twist, players can opt to pay for options beyond the three available. So armies can be moved two turns in a row, but for a price.
Awards:
GAMES Magazine Best Advanced Strategy Nominee 2008
International Gamers Awards Best Strategy Game Nominee 2007
Spiel Des Jahres Recommended 2007
Read More in: Board Games | Cheap Deals & Sales | Gaming Culture
Share this Article with others:
Related Articles:
Came straight to this page? Visit Critical Gamers for all the latest news.
Posted by Critical Gamers Staff at November 9, 2007 11:33 AM