A Movie for the Weekend: Average Homeboy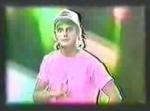 Here's some humourous weekend moviage for you before the weekend - "Average Homeboy". Picture a 2 minute demo tape of Marc Singer's younger brother as he attempts to break into the early '90's Eastcoast/Westcoast rap war. The problem is: he lives in rural Ohio (probably).
We assume the record executives never called.
On some levels we feel sorry for the poor guy. He was only trying to express himself through music and rhyme, and usually there's a certain level of beauty in that. But not here. Nope, everything from his doily curtains to his butt thrusting dance shots screams plain-awful. Oh, and the lyrics are fantastic, in that age-old Spinal Tap property of Humor=1 / Quality sort of way.
It really doesn't get any better than this ladies and gentlemen. Prepare to be blazed.
Enjoy the weekend!
Read More in: Gaming Culture
Share this Article with others:
Related Articles:
Came straight to this page? Visit Critical Gamers for all the latest news.
Posted by Critical Gamers Staff at April 21, 2006 1:13 PM