Xeko Trading Card Game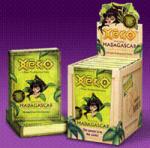 We were surfing TreeHugger.com when we ran into Xeko, a trading card game for kids with a 'learn about the environment' theme. The first set is centered around the rare animals and unique ecosystem of the inbred cousin of Africa, Madagascar. The game reminds us of those National Geographic animal cards that were around when we were younger. In that series, each card detailed an animal (usually from Africa) including its habitat, behavior, and a purty color photo.
Xeko is like that, but makes a game out it, where players fight to create the strongest ecosystem. Man, this would have been fantastic when we were younger.
Here are the details:
Based on the Legend of Xeko and conservation hotspots, Xeko ignites imaginations and sends the next generation of heroes on an adventure to save the world.

The Xeko game features remarkable plant and animal species from Earth's biodiversity hotspots first identified by Norman Myers and recognized by Conservation International. Currently numbered at 34, the hotspots contain 75 percent of the planet's most threatened mammals, birds and amphibians while covering just 2.3 percent of the Earth's surface. An estimated 50 percent of all vascular plants and 42 percent of land vertebrates exist only in these hotspots.

Preserving our planet's biodiversity is Xeko Mission: Critical.

Every Xeko player is an eco-hero. Every game purchase helps fund conservation efforts in the field.

The Xeko motto: Have fun, do good!
Xeko's official website has more information, including a demo of the game. Also, here's a KidsWorld review of the game here, and it looks like a store called Queen Anne Books sells the game online.
Read More in: Card Games | Collectable Card Games
Share this Article with others:
Related Articles:
Came straight to this page? Visit Critical Gamers for all the latest news.
Posted by Critical Gamers Staff at August 4, 2006 2:07 PM