WoW TCG Shortage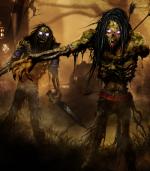 Want to get started playing the WoW TCG? Then pick up a Starter Deck and a few booster packs. Also check-out Our Review.
You may have noticed that we've been a bit obsessed lately with the World of Warcraft Trading Card Game. Seems like we're not the only ones - just a week after the game's release the prices for boosters and starter decks has skyrocketed to double the MSRP. And that's if you can find a store to sell them to you. Vicious rumors have been circulating that Upper Deck is purposely starving the market as a publicity stunt, and that a new supply of cards wouldn't hit the market until JANUARY.
But we found some official words from Jeff Donais, the Director of Upper Deck's Game Development Group, that should lay those rumors to rest.
First off, a bit on the current starvation issue in retail stores:
" I did a little research today.

A few gaming stores ordered 600 boxes and many gaming stores ordered 1 box. Plus, everything in between.

Very interesting spread of order quantities, which makes it very hard for distributors to know how much to order.

Having said that, waves are going out each week for the next 3 weeks and a large wave is hitting a couple of weeks after that, which should accomodate almost everyone. " - From a post in the Official WoW TCG Forums
Also, Donais specifically addresses the current card shortages and skyrocketing prices at retailers:
" "We are releasing more product, which should lower prices a little.

Basically, our goal is to print exactly how much is needed, not less, not more.

This will keep card values high in the long run, but also accessible in the short run.

We are opening up our reserves next week, followed by some additional print runs in the coming weeks and months until everyone is satisfied.

Then, set #2 releases.

Interesting note - We doubled our original print run numbers, and then doubled them again after that and again doubled them after Gen Con Indy demos were so successful. So yes, we have a hit on our hands, hopefully people like the product and will stick with it for a long time. We certainly intend to support it for a long time. " - From a post in the Official WoW TCG Forums
It looks like those players wanting to break into the WoW TCG will get a chance to very soon, and you won't have to sell off your first born to do it. Double bonus.
Read More in: Collectable Card Games | Gaming News
Share this Article with others:
Related Articles:
Came straight to this page? Visit Critical Gamers for all the latest news.
Posted by Critical Gamers Staff at November 2, 2006 11:50 AM