WoW TCG Servants of the Betrayer Previews Wrapup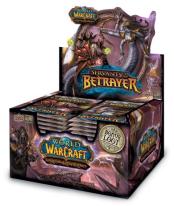 The Servants of the Betrayer Preview Weekend is upon us, and so the exciting conclusion of the class preview articles from Upper Deck's official website comes to a close. And we really like what we see. The new standard heroes look pretty sweet in this set, sporting some pretty slick flip abilities. But even more interesting is that they contrasted by the new traitor heroes, who do similar things but more aggressively. Overall the traitor abilities look pretty darn powerful, and they should be since Tratior Heroes lack any other specializations, and their abilities are a flash-in-the pan release and they may not be expanded up on any time soon.
Some people might see that as a drawback - a waste of cards that might sit dusty in their collection. We welcome it. After the first three set releases we began to become wary of a lack of specific themes in the sets. Things seem to be improving, though. The Aldor & Scryer lineage which started in March of the Legion, continues on in Betrayer. And now we have some focused Traitor content that can be very, very interesting and unexpected ways.
And the game hasn't even touched the foundation of the heroes' tradeskill abilities yet.
Here are this week's feature articles. For information about the Druid, Hunter and Mage, checkout WoW TCG Servants of the Betrayer Previews Week 1.
Class Articles:
Paladin
Priest
Rogue
Shaman
WarlockWarrior
Read More in: Collectable Card Games | Gaming News | World of Warcraft TCG
Share this Article with others:
Related Articles:
Came straight to this page? Visit Critical Gamers for all the latest news.
Posted by Critical Gamers Staff at March 28, 2008 1:52 PM