WoW TCG Scourgewar Set to Unleash November 24th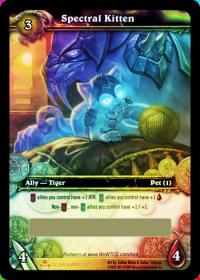 Nothing says Scourgewar like a toy kitten. It's true!
This new World of Warcraft set expansion Scourgewar is officially pinned on the release calendar, so pack your bags and extra sweater for Northrend. Scourgeware will kick-off a new three set cycle set around the events of the World of Warcraft MMORPG expansion Wrath of the Lich King. The 'scourge' refers to the evil undead menace that have pledged their allegiance with the undead Lich King himself. Don't confuse these baddies with the Undead faction of the Horde, though, who are upstanding citizens, at least for the most part.

Details on the set are still light. We expect to see plot lines of a few of the new secondary races, like perhaps the murloc cousin Oracles, or the badger folk Wolvar. Perhaps we might see seeds of the Worgen, too, a werewolf like race recently announced as a playable faction in next year's World of Warcraft expansion 'Cataclysm' (and who played a minor role in Lich King). And since we're entering the land of the Death Night we figure we're sure to get a substantial boost to the content for those new kids on the block, too.
Now the first Featured Preview Article is the Loot Card Preview (hence the cute kitten) so official details are still sparse. Honestly, the article came out a while ago and we've been holding back a few days to see if any other juicy tidbits would come out. Unfortunately: bubkis. Hopefully things will pick up next week.
The biggest news for us was the confirmed release date. Gotta say that it fights our schedule nicely considering it gives us amble time to play the massive amount of fall releases before we get sucked back into WoWage.
As always we'll keep you posted of more details as they emerge.

Read More in: Collectable Card Games | Gaming News
Share this Article with others:
Related Articles:
Came straight to this page? Visit Critical Gamers for all the latest news.
Posted by Critical Gamers Staff at September 17, 2009 4:05 PM