WoW TCG Scourgewar Preview Articles Begin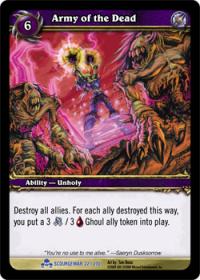 It's about time. Upper Deck has shelved all of the tournament coverage and card strategy discussions and started focusing on the real meat and bones: feature previews of the new abilities, cards, and paradigms of this November's World of Warcraft Trading Card Game set expansion Scourgewar.
We both love and dislike the things we're seeing. For one: we're tired of cards that request you do silly things in order for an effect to happen, like Encrusted Zombie Finger does. We make enough "braains" references already, we don't need a catalyst for more. It's like someone at Upper Decks is swinging a cumbersome 'Fun' Hammer and hits our finger instead of our head.
Meanwhile, on the Awesome town side of the tracks is a new Assault keyword which adds to a ally's attack value whenever it's your turn. Things look even more interesting with the new set of armor smith allies that pump up attack based how many pieces of armor your wearing.
We welcome the cross cooperation of elements of the deck; it's been somewhat lacking in this game. Hopefully they keep up the work on that regard. We also love how you use your armor top protect yourself when its your opponent's turn, but then work to move that same armor into an Assault force when it's yours. Very interesting stuff.
Scourgeware is slated for release November 24th; just before a nice long Thanksgiving weekend. We'll keep you posted when new interesting cards appear, and when we learn more about this set's new key words, too.
Read More in: Collectable Card Games | Gaming News
Share this Article with others:
Related Articles:
Came straight to this page? Visit Critical Gamers for all the latest news.
Posted by Critical Gamers Staff at October 21, 2009 5:35 PM