WoW TCG Molten Core Treasure Pack Card Previews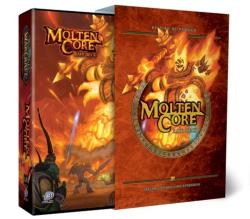 The WoW TCG Molten Core Raid Deck has been released, and is now available from Shopzilla and Funagain Games.
As we reported last week, the WoW TCG Molten Core Raid Deck Official Website kicked off just over a week ago. You would think that with just under a week to go before the game's release on May 30th that the Official Website would be erupting with gobs of info about the title. But nearly a week has passed since the website went live, and they've had absolutely no updates. Zip. Zilch. It's as if the ground opened up and swallowed the webmasters whole.
Thankfully the official website has started to roll out a series of feature articles detailing the cards to be won in the Molten Core Treasure Packs. These serve as the well-deserved reward to those groups who defeat the raid deck (whatever challenges it may contain *hurmph*), and come in a presealed pack - only to be opened once Ragnaros has been laid to rest. Most of the cards fall into the Rare or Epic category (Blue/Purple), and those of you who played the Onxyia Raid Deck can attest that these cards can be pretty darn powerful if used in the correct situations.
The first few articles from this week focus on the weapons in the Molten Core set. And if you were to ask our opinion, they ramp up starting with the solid 'good' equipment in "Core Hound Tooth", eventually leading up to the more drool-worthy "Obsidian Edged Blade". This Friday (today) we see the first pieces of class-specific leg armor in "Tier Two Leggings" starting with the leg pieces for the Warlock and Shaman classes. They're definitely seem to impress us quite a bit more than the class-generic weapon cards that proceeded them, and we can't wait to see what sort of trinkets round off the set next week.
Here are the articles thus far:
As these articles are rolling out, the cards themselves are also being posted at the WoW TCG Database for your easy perusal; through two sets and a raid deck it remains our favorite place to research cards. Now if only Upper Deck could spill some details on the Molten Core Raid Deck gameplay. It's five days before release, and um... Tick Tock.

Read More in: Collectable Card Games | Gaming News | World of Warcraft TCG
Share this Article with others:
Related Articles:
Came straight to this page? Visit Critical Gamers for all the latest news.
Posted by Critical Gamers Staff at May 25, 2007 4:19 PM