WoW TCG Molten Core Raid Deck Hands On Part 1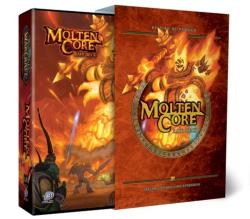 After a week of prep work and rules research, a pesky bachelor or two, and some inevitable schedule juggling, we finally sat down last night to put the World of Warcraft TCG Molten Core Raid Deck [Amazon,Shopzilla] through its paces.
We were eager to see how Upper Deck handled this second raid deck installment -- we had some problems with the Onyxia deck which seemed far too easy for five of our finely tuned veteran solo decks. This time around we decided to switch things up by adding a few alternate characters to the mix . Our classic Fire Mage was benched for an alternate Frost Mage (which seemed more appropriate for running the fiery chasms of the Molten Core, anyway), and our main rogue was swapped out for a Holy Paladin with the in hopes of adding that extra healing oomph that we'd need to survive the upcoming marathon of ten major boss battles.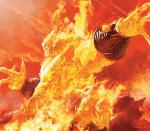 We put Critical Gamer Russ – our WoW expert - in charge of pulling the strings of the Molten Core Bosses. Last night for two hours our flock of Heroes danced around and smacked Russ in the face as we downed the raid's first five bosses. In the following article he recounts the night's battle from the eyes of the antagonist, and comments on the Molten Core Raid Deck's success and failures of adapting the 40-man online raid into a card game for the WoW TCG.
The Narrative
The week I had from getting the raid deck, to actually playing it was agonizing.
I opened the deck up on the day it arrived, organized all those cellophane packs like some ancient tea ritual, eyed the unopened treasure card, and then sat back and read the manual cover to cover in pure reverence. Once I had a grasp of how the rules would work, I eagerly opened up the packs (except the treasure of course) and then after thumbing through each card, smelling its new print, and absorbing each card's raw power, I shuffled all the decks so that i could practice hand draws.
Sadly, our raid couldn't meet for a whole week, so over the next seven days, one would find me peeking the decks out, and pawing through the boss cards, or practice hand draws, or even staring eagerly at the minions. I even had a dream about the game!
Then finally, the night arrived, it was game time! I had given our players a heads up about certain rules, such as the boss's resource, graveyard, and minion immunities. I also spent a considerable amount of time daydreaming about our match by visiting the WoW TCG Official Forums and pouring over any MC rules discussions I encountered. This definitely turned out useful at least once in our match, and I recommend it to anyone who intends on being the boss.
With the rules understood, the gang had tweaked their decks some in preparation for the all out assault on the Core. The team consisted as follows: Chris, with his sexy Frost Mage, Dave with his brutal Blood Elf Paladin, Jeff with his Feral Druid, Jake and his Shadow Priest, and Larry with his Sneaky Rogue.
I knew how we had torn a new one in Onyxia during our previous five man raid, and I was hoping that the Core would prove more of a challenge for a five man. Still, as the boss player I was certainly scared.
It Begins
The game board opens up with Lucifron on the board. The players are all as excited as I am to get underway, and we all revel in the cards, and how well the boss fits the actual game. Sadly, at only 6 health, Luci is likely NEVER going to see his flip power, as he cannot flip until his third turn, and what group of idiots can't do 6 dmg in 3 turns. Hell, with the Frost Mage to my left, Luci had 3 dmg and was half dead before he could even bat an eye! And his two lackies who mind control player's allies and turn them on their masters? They were of little use, as no one was fool enough to play any of their allies this early. I don't recall if Luci even saw his second turn, but if he did, it was his last, as he was very quickly dispatched.
Ahh well, hes a pushover.. the next boss should be cool... and so he was. After flipping up a couple of resources into minions, Magmadar burst onto the scene, and his Rune made for some wacky damage dealing fun. Seeing the lowest life belonged to the Mage, I decided to work on him first. Maggy tore into him quick, causing Chris to fear the giant beast. The real excitement began when Maggy then flipped, and everyone got nervous that there wasn't a Hunter around (why?) to calm the Beast within. Maggy was going to be a very difficult foe hitting for 10 each attack.
The battle tore on a bit. The minions were too easily dispatched, and Maggy was stopped in his tracks by a Frostbolt on his second turn. Damn, there is 10 dmg he wont be chewing on. By this time, a Hunter ally had been played by Jeff, and it looked like Maggy would be soothed, but a lucky rune roll dealt the Hunter 3 dmg before he could use his tranquilizers on him, and so Maggy got another bite of Mage sandwich.
At this point, I felt pretty good. Sure, the minions seemed too easy to beat, but Maggy was tearing it up, and that's what I was hoping for. Then.. i could have cried, as the Priest tossed out a 14 point Greater Heal onto the Mage, and nearly all the damage that had been done was suddenly gone. In addition, the players had been smart, and we were seeing plenty of protectors in the field at this time, and with the good removal cards at higher resource costs, we just weren't seeing them get any play at this point. Maggy was dead before turn 5, and sadly, we had to put that puppy to rest.
Next up, The "forgettable" boss, Gehennas. Here, I think I made my first mistake. I had a decent amount of minions come into play, including 2 Firelords. The Lava Spawns exponentially added to the fun, and definitely caused some concern amongst the heroes. I had figured that in order to maximize the effectiveness of my allies and minions, I would sacrifice Gehennas's lackeys early, and remove some weapons. And since there were few allies on the board, this would give my minions time to bust some heads, and maybe the Lava Spawns would even have time to multiply. That mistake probably cost me some decent damage from the beefier boss minions, because even after consuming them for their special abilityy, the heroes plowed through the minions anyway. A mistake I won't repeat next time.
Gehennas did some damage, but he never saw a second flip. His life was too low, and so he was taken out quick. Then the rest of the minions were mopped up before the next boss appeared. The players had learned quick when was the optimal time to kill a boss (which was varied depending on the boss) and they were being clever about optimizing their time between the boss fights.
But even with little to no minions, when Garr appears on the scene, he makes a helluva entrance. With his 8 Firesworn, he strikes the heroes up into a quick fervor, as they hurry to eliminate the threat. Garr began beating on the Rogue that had been trouble to Gehennas, as the Mage had put up a Plagueborn Meatwall, and no one seemed to be able to bust through it. It was also pure joy to watch Garr's Rune remove the abilities of our Druid. It was like watching Garr turn a lion into a kitten in one poof. Sadly, again, the minions were dealt with fast and furiously. Garr had only 3 Fresworn left by the time his turn rolled around again, and he was also pretty low on health. And so it was that after one more turn, having done some decent damage to the rogue, that Garr was subsequently killed off. Another 14 point priest heal to the rogue was also pretty demoralizing.
Our last boss of the evening was the Baron Geddon. I thought, surely here will be the time that we can bust one of these heroes into his grave. A Volcanic Lair was in play, and I was hoping that if we could last just 5 turns, we'd have someone dead. Meanwhile, Geddon had removed all but 5 of the hero's resources, thus equalizing the playing field again. Geddon starts the fight off, by making an ally in our Mage's party the bomb. This at least would do some damage, as well as remove that annoying Plagueborn Meatwall.
Sadly, once again, the team unloaded a lot of firepower onto Geddon, and he was nearly dead before the last player to go before his turn 2. Here it was that my second mistake occurred. I was attempting to keep Geddon's flipped side a secret. I had intended to Tap Him and use it at the final moments of Geddon's life. Unfortunately a well placed Bash from the Druid, exhausted Geddon, and thus I was unable to flip, and perform Geddon's "final service to the Fire Lord". And so instead of a bang, Geddon went out with a whimper, though he at least got one bomb off, and that Plagueborn Meatwall is no more.
And so we stand paused in our adventure. Shazzrah will be entering play when we next take up the game, and a very few minions will be joining him. Nearly all of the heroes have some damage, but it seems like not enough. The protectors have done a superb job of well.. protecting. And at this point, the hero's have such a supply of resources, that they can pull out all the stops on each new boss.
On the other hand, the supply of runes has been steadily growing. And that means that the starting resources for each boss has been too. My hand is not amazing, but it has a few tricks up it. And My hope is that with the growing power each boss has, we will finally see some serious action. Otherwise, Ragnaros may be about to get his fire put out fast.
Observations
All in all - my thoughts on how the boss plays are thus:
On the game mechanics, these creators are brilliant. The bosses are fun, the powers are awesome, and they have done a spectacular job of matching what happens in the online game. Kudos to them, and I can only hope that we see a lot more raid decks, or even smaller-scale dungeon crawl decks.
It is still early (a true judgment cannot come until the game has been fully played out), but the bosses definitely feel too weak versus a 5 player raid. I had hoped this wasn't the case, but I feared it to be so. Like Onyxia, 5 players may just be too tough to handle. On the other hand, perhaps the first 10 bosses are really not intended to be too powerful, and instead provide a way to get players to use their bag of tricks up, so that by the time Rag appears, he will have less trouble mopping up the field. Of course, a well placed bluleaf tubers graveyard re-shuffle will solve that problem too. Only the conclusion of our match will tell us for sure.
If it turns out the bosses need to be tougher for a 5 player game, I can think of several ideas that are worth trying for the home-gamer, but I think I should reserve them to see how the full clear goes. Again, we are only half done, and that's just not enough to determine if difficulty is appropriate. My hope is that its things ramp up a bit from here, and the players have a much harder time. Ragnaros should not be a pushover, and getting to him shouldn't be one either. It should take some tight teamwork, and a relatively powerful deck to make the trek through Molten Core, just like it did in the online version of WoW. I can't wait to see how the second half of this trek goes.
Read More in: Collectable Card Games | Gaming Culture | World of Warcraft TCG
Share this Article with others:
Related Articles:
Came straight to this page? Visit Critical Gamers for all the latest news.
Posted by Critical Gamers Staff at June 13, 2007 3:52 PM