WoW TCG: Hunt for Illidan Preview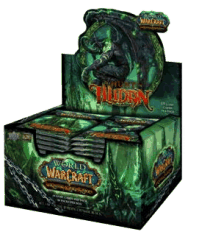 The final set release in the second World of Warcraft TCG cycle is slated to hit stores next week, and Upper Deck has once again given us a nice introduction to the key cards that will set the theme of The Hunt for Illidan.
The following official feature articles were rolled out over the last few weeks, and though these are mainly Rare Blues which are supposed to be hard hitting and slightly over powered, we have to say we like what we see. Most of us participated in last week's Hunt for Illidan sneak peak event, and this set should take the game to some exciting new places without burning any bridges. Best yet, it's going to be here in our hands next week!
Until then take the a nice relaxing weekend and mull over the nitty details of these few select cards from the set of 250+:


The Hunt for Illidan World of Warcraft Trading Card Game set ships July 1st, 2008.
Read More in: Collectable Card Games | Gaming News | World of Warcraft TCG
Share this Article with others:
Related Articles:
Came straight to this page? Visit Critical Gamers for all the latest news.
Posted by Critical Gamers Staff at June 27, 2008 2:44 PM