World of Warcraft TCG: What to Expect in 2010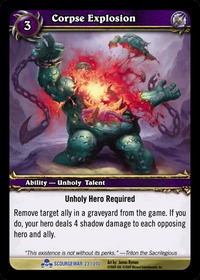 Sneaked in between the upcoming
Scourgewar expansion previews
, Upper Deck has posted a sort of State of the Union article, "
The Future's So Bright I Have to Wear (Tankatronic) Shades
". In contains some great details on where the franchise plans to go over the next year.
Interestingly enough this latest expansion to be book ended by TWO Raid Decks. First up players will tackle the multiple wing, and multiboss fight inside the floating undead necropolis of Naxxramas. That goes down this fall, in December to be exact. Then in 2010, after your collection is saturated with Scourgewar's death knight and nerubian goodness, your group will take the war to the Lich King himself in the Icecrown Citadel raid deck.
2010 will also see the appearance of a Class Decks, a new, friendly way to introduce players to the game. Each Class Deck will sport all the cards custom tailored for the class (Warrior, Hunter, Mage, etc) and should be balanced and somewhat competitive when played against modern collections of cards. Die hard fanatics might not find much here, but if you've had a friend looking from the outside in, then getting them hooked on WoW might be a no fuss solution of asking which class they'd like to play.
Here's the full schedule for the upcoming cycle, raid deck, and class deck releases:

---

"Schedule of Upcoming World of Warcraft TCG Product Releases


November 2009 - Scourgewar Boosters
December 2009 - Scourgewar Epic Collection
December 2009 - Naxxramas Raid Deck & Treasure Pack
March 2010 - Class Decks
April 2010 - Wrathgate Boosters
July 2010 - Icecrown Boosters
Winter 2010 - Icecrown Citadel Raid Deck & Treasure Pack "

---
Also be sure to checkout this feature article for a full breakdown of all the good details of what to expect in 2010.
Read More in: Collectable Card Games | Gaming News
Share this Article with others:
Related Articles:
Came straight to this page? Visit Critical Gamers for all the latest news.
Posted by Critical Gamers Staff at November 10, 2009 5:00 PM