World of Warcraft TCG Review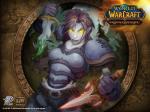 We had our first WoW Trading Card Game rumble last night. Five of us grabbed a Starter Deck [Amazon] and 3 extra Booster Packs [Amazon] each. Five hours later, in the dark hours of the morning, we reluctantly decided to call it a night. At 1:15 am - on a weeknight - we went our separate ways to sleep off the giddiness, but as early as 1:50 am some of us were already emailing each other with exciting WoW possibilities. No Joke.
Was all the hype for the World of Warcraft TCG worth the wait? You bet your sweat bippy it was.
TCG / CCG Experience

Before we drop our impressions of the WoW TCG we feel it's important that we stress the level of experience we have of TCGs / CCGs. Every Critical Gamer at last night's marathon WoW session has experience with Magic The Gathering. Going around the table we had three players who've played Magic and/or the LOTR TCG for 10 years, and two players with only a year's worth of TCG experience ( starting with MTG: Ravnica ). None of the people in our TCG group plays in the pro circuit, and although we know the rules we wouldn't even consider ourselves experts. We don't hang out in game stores trading cards, or uploading our deck load outs for critiques from Internet TCG jockeys. To us the game isn't about seeing how far up the competitive ladder that we can climb, it's more about having fun constructing inventive decks of cards and having a beer while playing.
Also, all but one of us has played World of Warcraft the MMORPG, with three of us still actively playing. Most of us love the game, while one actively dislikes the addictive carrot-on-stick leveling structure.
The Starter Decks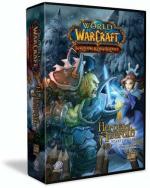 Enough with that. Let's get down to business. First up is the WoW TCG Starter Deck, which contains a themed mini deck of 30 cards, a colorful instruction booklet, two boosters, three novelty giant hero cards, all wrapped in a plastic carrying case with enough storage for 2 full 60 card decks. It has everything that you need to start playing.
There are actually nine different Starter Decks, each contains one of nine mini decks representing the spectrum of World of Warcraft classes: druid, hunter, rogue, mage, paladin, priest, shaman, warlock and warrior. From the outside each Starter Deck looks like the next , so there's no way to tell which mini deck you're purchasing until you open it up and unwrap the cards. Control freaks might be miffed about this, especially if you and your friends are trying to construct a diverse party in preparation of the upcoming Onyxia Raid Deck - which promises to be quite the challenge. Anything to make you buy more cards, we guess.
The true gem of the starter deck is the case itself. It's made of high-quality plastic, it has a lid that locks shut, a pencil holder, and contains two internal compartments. Each compartment can hold a deck of 60 cards - which means you'll soon use the case to bring two decks to your friend's house, or to bring your deck and a set of cards to trade. It's clever, useful, doesn't feel cheap to carry, and like it we said: it's a gem.
Once you're done getting acquainted with the game by playing a few rounds against your friend with the 30 card mini-deck, you're supposed to construct a "legal" 60 card deck for future play sessions. At least, we assumed that's what the two boosters packs in each Starter Deck were for - to expand your deck for true WoW TCG playing. However, the two boosters have class-specific and faction-specific cards, which means you won't be able to legally shove all of your booster cards into your themed starter deck. In the end you'll need to buy even more boosters before you can move past the game's 'tutorial' stage. Sneaky. Anything to make you buy more cards, we guess.

Rules

We're not prepared to do a complete rules analysis right-now (but checkout "World of Warcraft Official Rules" if you're interested in learning them). We've only played the game about five times, and on only one night, so It's just too early to make finite judgements of the rules. However, we can say is that the game is simple to learn, and a blast to play.
We've been poking around some forums for the game and we've noticed some dissatisfaction with the attack rules. In games like Magic an attacker chooses which creatures to attack with, and the defender chooses which creatures to defend with. Any unblocked creatures damage the player himself (and the goal is to bring the player's life from 20 down to 0).
Things are considerably different in the WoW TCG: the attacking player chooses the target for his attacking hero or ally. That means any ally, and any hero with a weapon, can bypass an opponent's allies and head straight for the hero character himself. When the hero dies, that player is out of the game.
This sets off a lot of alarms for players. After all: if you can just head straight to the throat of the hero, then why even bother with the allies? Well for one, your opponent's allies might be able to out damage your own, sending your hero down into a deep dark sleep faster. In this case you'll want to kill his heavy hitters quickly.
There is also the "Protector" skill that some allies have that allow them to intercept attacks. They act as the game's meat shields, so you're more often than not going to have to take down an ally or two even before you start swinging at your opponent's hero.
And finally some of the allies have abilities that you'll want to get rid of before they're used too often. Abilities such as healing, or tapping your own heroes, or tapping your armor, weapons, destroying abilities, sacrificing themselves to destroy allies, etc.
In the end the combat system seems very well balanced, and we're a big fan of it. Players will go on the offense attacking both heroes and allies alike, because in most case ignoring an opponent's allies will lose you the game.
Quests and Resources

Resources are one of favorite things about the WoW TCG. There's is only one resource type in the game, and it's called "Resource". You tap one resource, or a series of resources, to activate abilities of varying costs, or to bring cards out of your hand and into the game, etc. The term "Resource" is not well-themed, we admit, but hey - it gets the job done.
There are no specific resource cards per se. Any card in your hand can be played face down to act as a resource throughout the course of the game. As a face-down resource the card loses all of it's other powers - it's just a resource, which means in any given turn you'll have to weigh your need for resources against the power of the cards in your hand. Maybe this isn't new in the TCG world, but we think it's brilliant.
The net result is that you're never, ever, starving for a land in a game of the WoW TCG, or praying that you'll draw a "Blue" land on your next upkeep but grab a card of cost 7 instead. You'll always have land to play.and the tough part is: which card in your hand do you sacrifice and make the resource?
Thankfully it's not always a tough decision. because there's another card type which acts a resource all the time: the Quest card. Unlike the other cards, Quest cards are played face-up, act as resources, and have abilities that activate later in the game. Once a quest card's ability is resolved (usually by spending resources) it's turned face down, and continues to act as a resource. You don't NEED to put quest cards into your deck (since any card can be a resource), but the flexibility and power they represent is significant - most of them allow you to draw more cards at some point later in the game. It becomes quickly apparent that a lot of WoW TCG cards offer card (draw) advantage, and Quest cards ensure that you don't want to be left behind in that Cold War.
The Art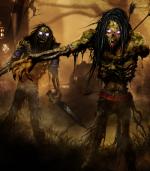 Two words: simply fantastic. Upper Deck went all-out with the art budget, hiring big name talent, and it shows. Almost all of the cards have pieces of art which fit our impression of characters, quests, spells, armor, items - the works. It's all here, and it's very impressive looking.
We'd like to make a special note about that Hero cards. These cards represent the player, and you'll lose the game once your hero card is killed. They start the game in-play - they're never officially in the deck, and so they can have art on both sides.
One side contains textual information about a hero's special ability, and once the special ability has been used, the Hero card is flipped over to make sure you don't accidentally use it twice in a game. On the back of the card is a full blown image of your hero, detailed in all his/her glory minus the special ability text box. It's impressive.
The hero card serves as the perfect piece to top-off a deck in storage. You'll never ask, "Which deck is my Warlock deck again?" again, because his fiery brimstone eyes will always be staring you down from across the room.
There is one aspect of the art that we don't like. The cards have a rarity scale that's similar to the rarity of items in the WoW MMORPG. In that game, common items are white, uncommon items are green, rare items are blue, and epic items are purple. The WoW TCG mimics this system by printing the card's series number and block symbol ( a skull for Heroes of Azeroth) in the respective rarity color. For instance, a rare card would have blue printing at the bottom of the card.
The problem comes from this - the printing's blue looks purple, and for a long time we were accidentally trading under the assumption that we had a lot of epic cards. Because of this, the trading prices of our blues skyrocketed to 'epic' prices, and we traded many uncommon green cards for one blue card. Awoops.
It's only after we encountered our first epic item, saw the electric purple versus the rare dark-blue, and then we realized what we had done. Upper Deck should have taken better care with the color scheme.
The Theme

The ability cards, the quests, the weapons, the armor, the classes - it's like someone vigorously shook the WoW MMORPG and out fell these card representations of the Best of World of Warcraft. We were excited to find all of the little nuances of the computer game in the cards, spanning our experiences from the game's low-level content to more rare end-game moments. If you've played World of Warcraft then the systems, items, and quests will be extraordinarily easy to pick up and play, almost intuitive even. A huge successful check-plus for Upper Deck and the WoW TCG design team.
The C in TCG

It's funny, In Magic The Gathering Collectable Card Game, we collected cards more than we traded with each other. But on the very first night of the WoW Trading Card Game, we spent a few hours simply wheeling and dealing our cards to each other. Each of us decided to focus on a specific class so we could prepare for the upcoming Onxyia's Lair raid deck.
Because a lot of the more powerful WoW TCG cards are class specific, it became very obvious which card each of us wanted from someone else's stack, and it was obvious who we could offload an unwanted card to. If you're main hero is a Hunter, and yet you have a few rare Shaman cards lying around that you're never going to use, you might as well see which hunter cards the shamman player has that might fit your fancy.
Sure, in Magic there was always the potential to see what "Whites" or "Blues" someone had, but the cards in the WoW TCG are tied much tighter to nine specific heroes types. There are far less rare jack-all-trade cards, but instead various weapons, pieces of armor, allies, etc, that you're specifically seeking out and trying to get.
The amount of trading that went-down last night was insane. At few points we were trading 3 layers deep (keep in mind that there were only five of us) - someone was trading a player for a card that another player wants, in hopes the next player could get a card for another player, who had a card the original player wanted. It was as though the New York Stock Exchange crash landed in a dining room in suburbia Boston.
There is one drawback to all of this though: Because there are nine classes to collect for, a booster pack of 14 cards maybe has one card for the class you're building. There are some other good faction-specific, or completely generic cards, that might help to make your deck more powerful, but most the cards that fit this description seem to be on the lower end of the rarity scale - so you already have a lot of them lying around. In the end, if you're trying to build a specific class into a powerhouse deck, then you're going to have to buy a lot of cards.
The need to make your hero bad-ass could be a problem in the long-term, and that hinges on how difficult the upcoming raid decks are. From what we've heard from the game's designers, the upcoming raids are "difficult" and require good equipment and coordination. But just how difficult is "difficult", and just how much equipment we'll we need, is still a huge question mark in our minds - especially if it means each of us will have to buy $100 of boosters to compete against a $30 raid deck. That's a lot of money.
So what's the short of it?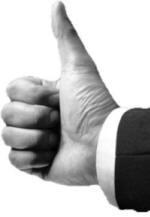 This game could easily serve as a WoW enthusiast's gateway into the world of TCGs, and there's plenty of fun things to interest a regular TCG game player as well. In our minds Upper Deck has successfully bridged that gap between the online gamer and the TCG gamer, and has done it with high quality art, materials, easy rules, and streamlined gameplay.
We'll have more impressions on the game as we continue to put it thought its paces, but as it stands now we're completely hooked. In fact - we're frothing at the mouth for more cards. Hopefully the booster prices will come down next week (as Upper Deck releases more runs of the cards) so we can strengthen our characters a bit more.
We want more, we want it now, and you better not stand in our way or you'll find an Arcanite Reaper sticking out of ya where the sun don't shine.
Read More in: Collectable Card Games | Our Game Reviews | World of Warcraft TCG
Share this Article with others:
Related Articles:
Came straight to this page? Visit Critical Gamers for all the latest news.
Posted by Critical Gamers Staff at November 3, 2006 11:56 AM