World of Warcraft TCG Prelease Deals at wowtcgstore.com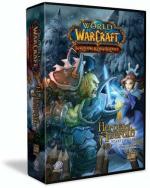 Want to get started playing the WoW TCG? Then pick up a Starter Deck and a few booster packs. Also check-out Our Review.
Upper Deck's World of Warcraft TCG is only two weeks away from release. Holy smokes, time flies, huh?
If you're scratching your head regarding where to pick up your cards for release, then put down the topical cream because wowtcgstore.com just sent us word of some prerelease specials and a contest that might net you gobs of free cards.
The Company Line: wowtcgstore.com is giving away a whole box of boosters (24 booster packs) for the World of Warcraft Trading Card Game to one lucky customer! To enter this contest, add the coupon code "BOXCONTEST" at checkout to any pre-order, or send an email to contest@wowtcgstore.com and include in your message any other coupon code listed on our site. Only one entry per customer, please.
The site also has some other great mass purchase prerelease deals posted on their front page in case your entire group or office is thinking of playing:
NINESTART: Buy eight Starter Sets, get a ninth FREE!
NINEBOOST: Buy eight 15-Card Booster Packs, get a ninth FREE!
NINEBOXES: Buy eight 24-Pack Booster Boxes, get a ninth free! (A $71.99 value!)
FIVESTART: Buy four Starter Sets, get a fifth at 50% OFF!
FIVEBOOST: Buy four Booster Packs, get a fifth at 50% OFF!
FIVEBOXES: Buy four Booster Boxes, get a fifth at 50% OFF! (A $36.00 value!)
THREEBOXES: Buy two Booster Boxes, get a third at 25% OFF! (An $18.00 value!)
The cynic in us feels that we should say: we won't get a dime for any subsequent referrals from our site. These are simply good deals that we thought you should know about!
We'll keep an eye out for any more good online deals for the WoW TCG, and we'll let you know as soon as we find them.
Read More in: Cheap Deals & Sales | Collectable Card Games | World of Warcraft TCG
Share this Article with others:
Related Articles:
Came straight to this page? Visit Critical Gamers for all the latest news.
Posted by Critical Gamers Staff at October 13, 2006 10:31 AM