World of Warcraft TCG: Onyxia's Lair Playmat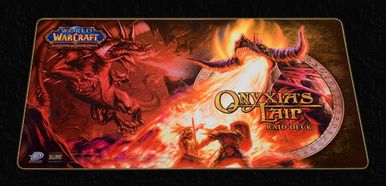 Those of you looking to offload the gobs of UDE points you've been hording from all your
WoW TCG
boosters now have a prize that's not the standard fare of computer desktop wallpapers, in-game trinkets, and Ogre costumes. The new
Onyxia's Lair Playmat
has been pushed to the UDE points store, and is now available for purchase at the somewhat reasonable price of 12,000 UDE points.
The playmat has no real in-game functionality, so no - it doesn't help you organize your cards, it doesn't automatically tap your allies when they run-in to deal pain, nor does it open beer bottles with worn teeth. But despite all these drawbacks we have to admit that the mat does look pretty snazy. Plus, what better way to make your hero look more bad ass than to have him standing above a hellish torrent of fire and brimstone? What's that behind your opponent? Is that a well worn wood finish of a 1970's card table? Yeah, real bad ass. Sucka.
Read More in: Collectable Card Games | Gaming News | World of Warcraft TCG
Share this Article with others:
Related Articles:
Came straight to this page? Visit Critical Gamers for all the latest news.
Posted by Critical Gamers Staff at May 11, 2007 12:00 PM