World of Warcraft TCG Official Rules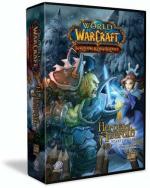 Want to get started playing the WoW TCG? Then pick up a Starter Deck and a few booster packs. Also check-out Our Review.
The producers of the World of Warcraft TCG website have posted
a link to the game's official 48-page rulebook
. The rules are very simple to understand, precise, and go into the details of the
seven card types that we had covered
a week ago. The rulebook also contains new content including a clear description of the game's turn order and multiplayer rules, and includes detailed descriptions of the keywords for the WoW TCG Series-One cards.
We thought we'd include the keywords and definitions here since they're all very much tied into the flavor and presentation of the game. Some of the keywords are your standard TCG notions of Instant abilities and Unique cards, so we've pruned those snoozers out.
A special note about the rules of the "Protector" keyword - in combat it's usually the the attacking player who choses both the attacking and defending hero and ally. The "Protector" ability breaks that rule.
Bear Form: Some Druid abilities give your hero bear form. While in bear form, your hero has protector. When you play a non-Feral ability or strike with a weapon, you must destroy any ability cards in play that give your hero bear form.
Elusive: An elusive hero or ally can't be attacked. However, it can still attack as usual. It can also be targeted by abilities as usual.
Ferocity: An ally with ferocity can attack on the same turn that it joins a party. However, even an ally with ferocity can't use activated powers unless it has been in your party since the start of your turn. An ally with ferocity can still use regular payment powers that don't require an activation.
Long-Range: Some weapons give your hero long-range. While a hero with long-range is attacking, defenders deal no combat damage to it.
Protector: A hero or ally with protector can defend in place of a proposed defender in combat.
Stealth: Some Rogue abilities give your hero stealth. While a stealthed hero is attacking, opposing heroes and allies can't protect. As soon as your hero deals damage, you lose stealth and must destroy any card that gives you stealth.
Totem: A Totem is a special kind of Shaman ongoing ability. A Totem has a health value in its lower right corner. Totems can be attacked in combat or targeted by anything that would normally target an ally.
Unlimited: When a card has the "unlimited" keyword, you can put any number of them into your deck. For example, you could have 60 Orgrimmar Grunts cards in your deck instead of the normal maximum of 4.
Links to the online versions of the World of Warcraft TCG rulebook can be found here. We'd also like to make special note about the art of the "Battle of Darrowshire" , a Quest card detailed on the WoW TCG website this last week. The arrows to the neck is a perfect import from the undead models of the MMORPG, and that background is the coolest subtle, yet terrifying, background we've seen of a Trading Card in a long while. Totally fits the game's October release, too.
Can't wait!
Read More in: Collectable Card Games | Gaming News | World of Warcraft TCG
Share this Article with others:
Related Articles:
Came straight to this page? Visit Critical Gamers for all the latest news.
Posted by Critical Gamers Staff at August 21, 2006 4:14 PM