World of Warcraft TCG Molten Core Raid Preview Pt 1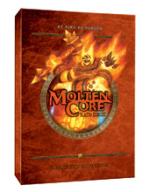 The WoW TCG Molten Core Raid Deck has been released, and is now available from Shopzilla and Funagain Games.
Upper Deck still has it's lips sealed about regarding the contest of the World of Warcraft TCG Molten Core Raid Deck set to ship sometime this Spring. As we, too, anxiously await along side you for official details of what will surly obsess over within a few months time, we thought it would be a good moment to share some of our expectations of the expansion.
Most of us here are World of Warcraft players, in some capacity or another. Some of us are casual players, others raiders, and even a few of us help organize raiding guilds up through the content in Naxxaramas (which also means we have no life).
Some of us have literally spent days gaming in the Molten Core, and we thought that we'd take this lull before the storm to tell you what to expect from the Molten Core Raid Deck come Spring. In this multipart series we'll run through the ten bosses that players tackle in a standard Molten Core run - and which Upper Deck has also hinted will exist in the the 2 decks that makeup of the Molten Core raid experience for the WoW TCG.
The Molten Core Overview
Anyone who's had high school Earth Science class knows that the most of the Earth is made up of molten rock, churning and bubbling in the depths thousands of miles below our feet. Its pretty scary to think that we're all floating on molten rock. But then imagine a series of angry Gods living down in it, and how PO'ed they must be not to have Central Air, and how scary that must be and you pretty much get the setting of the Molten Core.
Adventurers trek deeper and deeper into the cavernous earth to fight firey beasties with the ultimate goal of meeting the Fire God Ragnaros, servant of The Old Gods of World of Warcraft. But perhaps we're getting ahead of ourselves. First, you have to fight through his minions, each of which is looking to turn you into fiery poo. Starting with:
Ancient Core Hound: Before you even think of taking out one of Rag's captains, you have to fight through what we lovingly call "trash mobs". First on the list are these two headed beasties that stand three-men tall. He breaths fire, stuns opponents, and ignites anyone who touches him (like most things in the core). If your group isn't expecting this guy then he can seriously ruin your picnic.
Attacks: Bites, claws, knocks you on your tucus, then breathes fire on your sorry butt for some area of effect eyebrow singeing fun.
Passives: Every time you hit him, it burns. Oh it burns.
Weakness: Scooby Snacks, but since they don't exist: None.
Molten Destroyer: Even the tallest man with good posture only reaches this guy's knee cap. The trick to these guys is simple - don't let them touch you. They hit hard, really hard, and the best way to take them down is with a caster hiding behind a rock, behind a Buick, inside Fort Knox. A few slams from the fists of these guys should kill anyone not wearing heavy armor, or anyone who doesn't have fire resistance gear on. If a friend tells you otherwise, then well... your friend is on crack. Note: Molten Destroyers are very similar to Motlen Giants. In fact they're so similar that we'll assume Upper Deck will lump the two guys together a make the same monster out of them.
Attacks Fisticuffs. They don't wear rings, but it really doesn't matter. Face go squish now.
Weakness: None

Flame Imps: Picture Gremlins, but red, and on fire, and you get the picture. Individually these guys would simply claw your eyes out, but when they attack en masse they'll beat you over the head with your own limbs.
Attacks: Swipe at you with flaming claws and cut your break lines when you're on that big hill leading out of town.
Weaknesses: They can't take what they dish out. Round 'em up, do some area of effect damage, and call it a day
Lava Annihilator: A rock with arms, and fire for eyes. The Annihilator sweats fire causing damage to the surrounding party that engage them in hand to hand combat. There are actually two of types of these guys, with the more dangerous version being the Laval Surger. Why? The jerk likes to charge a random raid member and knock him into the sea of lava surrounding the battle. This, of course, burns. So watch where you stand.
Attacks: Smacks you with fists until you don't get up anymore. Also charges a random player sending them flying into the air.
Strategy: Players tend to hug the Surgers to mitigate the effect of his Charge. Unfortunately Laval Annihilators sweat fire, so hugging them is about as fun as a bag of socks.
Firelord: A flame with arms, and fire for eyes. Oh, and every 20 seconds or so he easily births mini flames with arms, and fire for eyes, who hit just as hard as mamma.
Attacks: Swings at you with arms that also burn with fire damage. Spawns mini-versions of himself that also shoot fireballs at your face.
Strategy: Kill off the children as soon as they spawn, as 2 -3 become uncontrollable.
Next week we'll cover the details of the Molten Cores first five bosses, some of which can be pretty darn tricky: including a giant fire hound that lays giant fire-turds, and a mean old bastage who turns people into bombs - burning everyone standing around 'em for gobs of damage! Yikes!
Read More in: Collectable Card Games | World of Warcraft TCG
Share this Article with others:
Related Articles:
Came straight to this page? Visit Critical Gamers for all the latest news.
Posted by Critical Gamers Staff at February 2, 2007 5:36 PM