World of Warcraft TCG: InQuest Magazine Feature Preview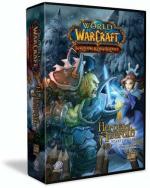 WoWcards.org has posted scans of a recent WoW Trading Card Game preview article published in the latest issue of InQuest magazine. The scanned images contain all of the article's images and text from the story on magazine shelves now. There's a ton of content in here, including info on the various character classes, gaining loot, versus combat, expansions, and cooperative raid combat.
This last bit, the raid combat, stands to differentiate the WoW TCG from other popular collectable card games. Beyond the normal One vs One character deck building, players will be able to buy sealed raid decks which will include special challenges and difficult boss fights. One player will pull the strings of the bad guys, while all of the others players in your group work together to defeat the raid. If successful then the players may open a special Loot deck that comes sealed in gold foil with the raid. The loot will includes top of the line equipment to split amongst the group, used to outfit characters to make them even more powerful than before.
The article paints a rather complicated picture of the game -- there's so much content in this system (which closely mimics the World of Warcraft massively online RPG) that the final card game might be too complicated for for the faint of heart. But that's just a generalization; we haven't seen the rules yet, and the appearance of familiar content from the computer game might drive rabid fans right-on up and over any steep learning curves.
We'll keep an eye out for more World of Warcaft TCG news as we get closer to the games' October release.
Also see:

Read More in: Collectable Card Games | Gaming News | World of Warcraft TCG
Share this Article with others:
Related Articles:
Came straight to this page? Visit Critical Gamers for all the latest news.
Posted by Critical Gamers Staff at July 11, 2006 1:19 PM