World of Warcraft TCG Hands On Product Details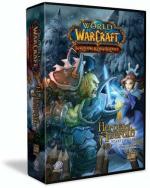 Want to get started playing the WoW TCG? Then pick up a Starter Deck and a few booster packs. Also check-out Our Review.
The World of Warcraft Trading Card Game is still one week from it's official World Wide Release. Somehow, somewhere, a few lucky people have already received their preorder shipments and they're laying down PvP smack down even as we speak.
Thankfully one of these lucky ducks posted a video of himself sifting through the TCG packaging, opening the starter decks and posting images of some of their booster cards - a lot of these cards haven't yet been detailed by the official website's card previews, nor anywhere else on the net for the matter.
We recommend skipping ahead to 2:40, which is when Mr X pulls apart the WoW TCG Starter Deck packaging. The stuff looks like it's made of high quality materials, and acts as a deck transport box to boot. Very, very nice.
There are also some great image uploads of other 'new' booster cards at zyeye.com.
Finally - we did some sifting of our own and found one of the better preorder deals online. As usual we found that IconUsa.com has the best prices on starter decks, boosters, and Onyxia's Lair raid deck preorders. The box of 24 boosters is nearly 40% off MSRP, which is nothing to sneeze at.
The World of Warcraft Trading Card Game officially launches next Friday.
Read More in: Collectable Card Games | Gaming News | World of Warcraft TCG
Share this Article with others:
Related Articles:
Came straight to this page? Visit Critical Gamers for all the latest news.
Posted by Critical Gamers Staff at October 20, 2006 1:29 PM