World of Warcraft TCG: Exactly What You'll Need to Get Started Playing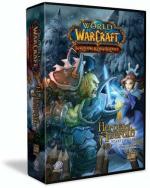 Want to get started playing the WoW TCG? Then pick up a Starter Deck and a few booster packs. Also check-out Our Review.
If you've heard good things about the WoW TCG and you're looking to break into the game but don't yet know how, then look no further. We've had numerous questions from our readers regarding 'how do I get my foot in the door?' in what is chalking-up to be one of the biggest gaming releases of the year. After you read over these three things you should be good to go!
1: First things first, get your hands on a World of Warcraft TCG Starter Deck [Amazon]. Each deck contains everything you'll need to start playing the WoW TCG out of the box, including: a Hero card that cements the foundation and focus of your deck; a basic deck of 33 cards that includes select equipment, abilities, and quests designed specifically for your Hero; two booster packs containing 15 random cards each (more info below); and an instruction booklet with rules to get you into the game quickly. There are nine varieties of Starer Decks at launch, covering the spectrum of classes from the World of Warcraft Massively-Multiplayer Online Roleplaying Game.
2: You should also pick up two extra Heroes of Azeroth Booster Packs [Amazon]. Why? Well although the Starter Deck has everything you need, the individual cards that makeup the prepackaged decks aren't of the highest caliber. The Starter Decks are simply that: a start. However, every WoW TCG Booster contains a fair number of powerful cards which could replace some of the lackluster cards in the starter pack. Each booster also contains a wide variety of other common cards that could change the way you focus your deck, and it includes a new hero card which might inspire you to completely branch out and try something new with your collection.
Customization is an important aspect of the game - there are a lot of different ways to play the WoW TCG: at least nine classes to build decks for, and then you can toy-around with the internal designs and focuses for each of the classes, too!
3: Counters. You'll need something to represent the damage accrued to your hero and his henchmen. Sure - you could use stacks of pennies, but one of the game's heroes can accumulate 30+ points of damage before going down. That's a lot of pennies. Our favorite solution: grab a number of six-sided dice. If those Rush t-shirts in the back of your closet veil an dusty copy of Axis and Allies, then you're golden.
Enjoy!
Read More in: Collectable Card Games | Gaming News | World of Warcraft TCG
Share this Article with others:
Related Articles:
Came straight to this page? Visit Critical Gamers for all the latest news.
Posted by Critical Gamers Staff at October 31, 2006 8:56 AM