World of Warcraft CCG Box Art Released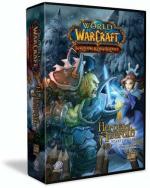 A lot has been said about Upper Deck's ability to draw some major artistic talent for their upcoming (October) release of the World of Warcraft Trading Card Game. Images of the game's vibrant packaging have began to surface across the Internet in the last few days. The starter box (clickable to the right -->) is looking pretty sweet, and it acts as the basis for the art on the two booster packs. One focuses on the Horde while the other on the Alliance, both are branded with the initial release name "The Heroes of Azeroth".
So there you have it. Looks like they're sparing no expense on materials -- that starter box DVD-like case is looking pretty sturdy. Also, we expected that the WoW CCG would be smothered with cool artwork, and that's what we got. The facial expressions of the two character's is especially good.
Now if we could just see some more of the cards...
For more information on how the WoW TCG game will play (including the cooperative raids), check out our "World of Warcraft TCG Interview" story.
Read More in: Collectable Card Games | Gaming News | World of Warcraft TCG
Share this Article with others:
Related Articles:
Came straight to this page? Visit Critical Gamers for all the latest news.
Posted by Critical Gamers Staff at July 3, 2006 11:43 AM