WizKids Star Wars Pocketmodel TCG Game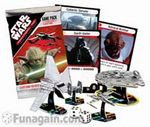 IGN has written-up a nice little preview of the upcoming Star Wars PocketModel TCG which is coming our way this Summer. As huge fans of the *cough* original Star Wars franchise the idea of pushing little model ships around the table and shouting blaster noises seems like a pretty good time in a box. Time to rewrite Porkin's fate.
Actually, these things don't come in a box. Each TCG package includes "four to eight styrene constructible vehicle models, six game cards, two micro dice, assembly instructions and complete rules." That seems like a lot to fit into our back pocket, so we're not quite sure how the quality of these materials will feel during play. But I think we're at least willing to give it a shot to see how the game plays out.
Aside from the IGN preview - which includes some pretty good pics - you can check out the game's official press release from Wizkids Games. The Star Wars PocketModel TCG is slated to ship in June.
Edit: It looks as though Game Trade Magazine is hosting a Star Wars Pocketmodel TCG Giveaway which you can enter here. The contest is a bit exclusive; those of you who live outside the two northern Americas will have have to spend hard-earned cash to get your mits on the game. Bummer. But given the odds of contests, most of us are in that same boat with ya.
Read More in: Cheap Deals & Sales | Collectable Card Games | Gaming News
Share this Article with others:
Related Articles:
Came straight to this page? Visit Critical Gamers for all the latest news.
Posted by Critical Gamers Staff at May 1, 2007 4:37 PM