Warhammer LCG's First Expansion on the Horizon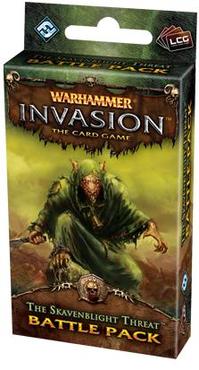 Sometime in November - so sometime very soon - the first Living Card Game expansion to
Warhammer LCG
is slated for release. We've really been digging the
Warhammer Invasion Base Set
since it came out last month, so we're really looking forward to seeing how this game moves forward with their expansion model.
Just a reminder: Living Card Games don't have the rarity curve that Collectible or Trading Card games have. When you buy a booster for a Living Card Game, you receive all the cards of the set. Basically think of each of these booster injections that push your base collection of cards through a long term story arc, introducing new characters, abilities, locations, etc, along the way.
So where do we stop first? With an invasion of rat people of course. The Skavenblight Threat kicks off the 7 installment Corruption Cycle. Here are the details:
---

The armies of Order are locked in a fierce struggle with the forces of Destruction. And now a new threat, the Skaven, make their way into the Warhammer: Invasion card game.

The Skavenblight Threat is the first monthly Battle Pack installment of The Corruption Cycle, a linked expansion series for Warhammer: Invasion, a card game of intense warfare, clever kingdom management, and epic questing. This 40 card pack contains 20 different never-before-seen cards designed to augment existing decks and add variety to the Warhammer: Invasion metagame.

---
For more indepth information, checkout the Fantasy Flight Games' feature preview article Sounds Like Rats.... We'll let you know as soon as it ships!
Read More in: Card Games | Collectable Card Games
Share this Article with others:
Related Articles:
Came straight to this page? Visit Critical Gamers for all the latest news.
Posted by Critical Gamers Staff at November 12, 2009 4:25 PM