Warhammer Invasion LCG Expands with Tooth and Claw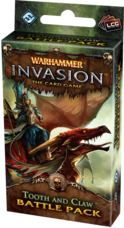 The surprise hit Warhammer Invasion Living Card Game continues to .. live with the third Skaven themed expansion in the premier Corruption Cycle. Tooth and Claw [Amazon, Funagain] includes 40 cards, that cover 41-60 of the set. Here are the official details:
---

"The first battle pack, The Skavenblight Threat, saw the emergence of the diseased and squabbling Skaven. The second battle pack, The Path of the Zealot, brought new forces for the Skaven and the witch hunters. Now, new heroes are rising to do battle with the growing rat menace.

The Skaven will not give up the gains they have acquired, however, and are bringing the power and ferocity of the Rat Ogres and Gutter Runners; meanwhile the might of the heroic Gurni Thorgrimson and Ugrok Beardburna explode on the scene!

Tooth and Claw is the third monthly Battle Pack installment of The Corruption Cycle, the first linked expansion series for Warhammer: Invasion, a card game of intense warfare, clever kingdom management, and epic questing. This 40 card pack contains 20 different never-before-seen cards designed to augment existing decks and add variety to the Warhammer: Invasion metagame."

- The Heat of Battle

---
Read More in: Card Games | Collectable Card Games
Share this Article with others:
Related Articles:
Came straight to this page? Visit Critical Gamers for all the latest news.
Posted by Critical Gamers Staff at March 2, 2010 4:58 PM