TCGPlayer.com Names SAGA Online Most Anticipated Collectable Game 2008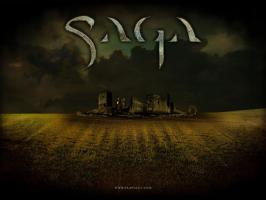 The tcgplayer.com readership were asked which upcoming TCG they're looking forward to the most. They're response: Saga, an upcoming persistent-world Real Time Strategy Game with Trading Card elements.
Slated for release sometime this year, this upcoming fantasy PC game tasks players to build armies, conquer new lands and build up kingdoms. Mixing in elements of other online management games such as resource collection, trading, city management, and alliances, the massive battles going on left and right in this hybrid of a game could be quite promising. There are very few online RTS games out there, and the idea of making it a collectable game to boot really tickles our fancy.
But not so fast. Just like the Saga graphic (above) things aren't all bright n' sunny. Delays and a somewhat dated graphics engine leave us a bit skeptical. We admit it's hard to assert this point too strongly though, since the 2D static Travian is one of our favorite games to play right now. It's all in the gameplay (almost), so we'll just zip-it on the graphics engine until we get our hands on it and start smashing stuff.
Here's a snippet of the official story from www.tcgplayer.com:
"The collectable game industry is buzzing with news about SAGA's entry into the retail space. SAGA stands alone as the first and only collectable online realtime strategy game. SAGA's unique game mechanics allow players to use their collectable online miniatures for questing and player-versus-player combat. Unlike all other online collectable games which are turn based, the SAGA game pieces come to life on the battlefield.

A recent poll on tcgplayer.com, a top collectable game review site, boasting 248,553 unique monthly visitors, ranked SAGA as the #1 anticipated collectable game, beating out the upcoming "Magic: the Gathering" and "World of WarCraft" CCG expansions. "We are ecstatic at the news but we do have an unfair advantage, being an online realtime collectable miniature game in a field of collectable card games. We are currently hard at work using feedback from our closed beta test to further improve the game," said Slava Zatuchny, Marketing Director for Silverlode Interactive."
Read More in: Collectable Card Games
Share this Article with others:
Related Articles:
Came straight to this page? Visit Critical Gamers for all the latest news.
Posted by Critical Gamers Staff at January 14, 2008 4:48 PM