TCG It's Friday: World of Warcraft Card Types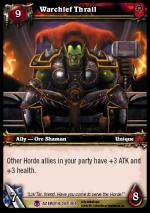 Want to get started playing the WoW TCG? Then pick up a Starter Deck and a few booster packs. Also check-out Our Review.
In our first installment of 'TCG Friday' we thought it would be wise to catchup with the World of Warcraft TCG (one of the biggest releases slated for this fall) by reviewing the official websites previews the game's card types. We've already
reported on the two official WoW TCG articles
which previewed the Hero and Ability cards. Since then the WoW website has continued to turn out the previews, publishing six articles for each of the remaining five card types ( do the math, something doesn't add up...). Together these previews give us a great glimpse at how this game system will ultimately end up.
So uh, if you don't mind, let's start glimpsing.

Armor
(click the "Armor" topic above go to the official article)
The game ends if your hero dies (simple straight forward stuff) , and as you might think, armor mitigates damage heading your heroes way. Whenever your hero is hit, you can exhaust (flip over) a piece armor to disregard an amount of damage equal to that card's armor value. For instance, if your troll mage is dealt three damage, then you
can exhaust your chest piece with an armor rating of two, and only take one point of damage. Armor becomes ready again (unflipped) at the beginning of the next turn.
We should note that certain pieces of armor can be worn by specific classes. Soft, squishy mages can't wear the game's heavier plate mail; that clunky and restrictive armor type is meant for the game's warrior and paladin classes. Expect the heavier armor to block more damage for better survivability, with the lighter armor focused on beefing up the casting abilities making your character more of an offensive force (the best defense is a good offense).
Finally, each piece of armor lists a particular body part: chest, legs, shoulders, etc, and in most cases you'll only be able to wear one piece of armor for each slot. Thankfully there's a game mechanic which allows you to replace armor already in play (you must send the lesser piece into the graveyard), so you can stack your deck with lesser armor cards to buff your character well-enough until you draw that sweet piece of rare plating that you've packed into your deck.
The potential for collectability here is quite high. You could seek-out sets of armor who's stat-buffs compliment each other, or spread out your hero's ability adjustments to accommodate other weapons / ability cards you've found. Considering that various armor pieces are class-exclusive, or at least work best for particular classes, there are tons of armor cthat cards and combinations that could change your entire library with one singe booster unwrap. Discover a Chestpiece of Might and suddenly your warrior's gear trumps your Shaman's, and he becomes the main focus of your card collection.
Weapon
We don't need to tell you that weapons hurt people (if this is news to you then please visit here). In the WoW TCG, when a hero is in combat, players can spend resource points to exhaust a weapon card (flip it over), and add the weapon's attack value to a character's base attack strength. The end result is the damage done to the opponent.
Like the good pieces of armor, the good weapons also have special abilities that players will surely seek out. Caster's weapons are more about buffing existing abilities than they are about dealing direct damage. Some weapons are one handed, leaving a slot for a shield or an off hand item (which are usually caster's items that buff statistics). Other weapons are ranged. These things aren't just for Hunters either - since you exhaust a weapon when you attack / defend, it's often wise to keep a ranged weapon readied incase your opponent decides to attack back.
Quests
This is is an interesting type of card. Quests are brought into the game and placed face up. They can then be activated by paying the Quest costs. This is usually done by exhausting resources (tapping land). In return some pretty wild things can happen.
Quests can be used to bring creatures into play under your control. They can allow you to draw cards, or give you special buffs. Once a quest is completed, it is exhausted (once again - flipped over for those of you not paying attention), and it becomes another resource!
A section of the Quest preview article lists a few of the key considerations the designers had when they sat down to work on the quest cards, and it offers a good understanding of what they're attempting to achieve. Here's a snippet:
"1. Quests had to be fun and flavorful but not interfere with the furious combat and action of the game. In a typical game, it's usually more important to concentrate on the fighting than to spend all of your resources completing quests. However, when you have extra resources lying around, it's great to spend them on quests. It's the card game equivalent of something to do with your character when you're not PvP'ing.

2. They needed to speed up placing a resource.
It can be hard to choose a card in hand to give up as a resource, but you'll always be happy to place a quest.

...

3. They needed to give players a consistent way to fill up their hands.
Card games are usually pretty boring if you run out of cards in hand. In the WoW TCG, once your hand gets pretty small, you'll probably have the extra resources to spend on quests, which in turn will fill up your hand. It's a nice rhythm and it keeps players' hands full of cards so that things stay exciting."
From "World of Warcraft Trading Card Game Preview: Quest"
The quest system seems like a great way to add spice to a deck. Collecting weapons and armor can be great for your particular heroes, but the various quests would be cool to put in almost any deck. At this point the seem like they're the glue cards that hold your library together.
Allies
Okay, things are starting to get very interesting in WoW land. Up to this point the WoW canvas has been painted with a picture of 'Two Heroes slugging it out against each other in a PvP 1v1 cage match'. Forget that.
Under pyrotechnic cannons and escorted by scantily clad women, the allies enter the ring. When these cards enter play they will each have attack and defense values of their own. They can be used to increase your deck's overall beefiness, or to complement a deck by adding healers, protectors, and dps mages that shoot from behind the lines. Both of the factions have seperate Ally cards (both the Horde and Alliance), and the WoW TCG website decided to breakdown the Allies preview into just that - an Alliance Ally Preview and a Horde Ally Preview.
Unfortunately the Horde Preview is relatively short. However, the Alliance 'Ally' preview introduces the a new game concept "Protector". If one of your heroes or allies has the "Protector" keyword, then that card can jump in front and intercept any attack from the enemy. That means if Joe Horde tries to single out your weak casters for a little hammer-to-the-face beat-down, then your healthy protector can step in the way and "deal" with the situation.
Inhale...Deep Breaths...
The idea of deck dynamics just began to twirl around in our heads. Damage dealing Allies, Protector allied tanks, quests that spawn out fodder, and in the middle sits a Priest Hero who heals them all. Or vice-versa - healing and buffing allies and a heroic warrior running up the to smash things good. Or a complicated, yet balanced mix of the two. Think of the deck building strategies!
We used to get be excited about the WoW TCG because it seemed that UpperDeck was going all-out with the production qualities, but now that we've seen some of the potential deck dynamics, we're VERY excited. The World of Warcraft Trading Card Game is slated for an October release, and right now that seems like a very, very long two month wait.
Read More in: Collectable Card Games | Gaming News | World of Warcraft TCG
Share this Article with others:
Related Articles:
Came straight to this page? Visit Critical Gamers for all the latest news.
Posted by Critical Gamers Staff at August 11, 2006 7:01 PM