Star Wars Pocketmodel TCG Rules Posted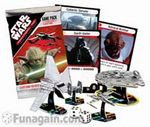 WizKids has posted the rules of their upcoming "Star Wars Pocketmodel Trading Card Game" [Funagain] set to release in June. The instructions [pdf] are available after listening to the 1980's secret cereal prize voice on the game's official web page.
The gameplay seems relatively straight forward, and definitely on the lighter end of the spectrum - players create fleets of limited cost, then fly them at each other rolling dice to determine hits, and playing cards to augment battle results. We're expecting a light fun game, with some of the payoff being the assembly of ships picked from our favorite fantasy/sci-fi setting of childhood.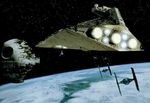 Who needs the characters of Star Wars anyway, or the horribly coreographed lightsaber batles of the original trilogy? The true star of the show is the large scale space battles and utilitarian/dirty ship design, and that's what we get here. To top it off we'll happily fill-in the Sound FX for this shrunken laundry incarnation of what is the epitome of 80's sci-fi movie craft. A lost art, indeed.
Read More in: Collectable Card Games | Gaming News
Share this Article with others:
Related Articles:
Came straight to this page? Visit Critical Gamers for all the latest news.
Posted by Critical Gamers Staff at May 24, 2007 3:32 PM