Research Your Magic The Gathering Combos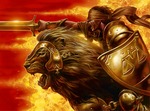 About a week ago we turned a critical eye toward Magic The Gathering Online. We wanted to see how the Game has held-up these three years since release. Our Initial impressions: the game has an aged graphics engine, a small library of uninspired sound FX, and a needlessly cryptic interface that makes Naked Lunch seem obvious. But beneath that murk lies a game just as addictive as the original 'Magic' collectible card game itself, and it's a title perfect for anyone looking to get back into the franchise.
Our full review is still forthcoming. For now we're willing to lift our obsessed little heads out of the Ravnica-block dredgefest to send some useful deck-building links your way.
Our favorite site so far is the Magic Deck Vortex: Deck Database. Here you can browse user submitted and publicly rated decks categorized by type (burn decks, big creature decks, mill decks) or by color. If you're looking for specific strategies in smaller bundles then check the section devoted to Card Combos. Here you can sort by color and also by block name (Ravnica, Kamigawa, etc) which comes in handy if you want to see some inventive ways to apply your latest booster.
The MDV also has an extensive Art section with high res images of the game's original card art. These pictures are scaled larger than those images printed on the cards; some images are Big. If you've ever caught yourself staring at a Magic card or two just to look at the pretty pictures, then MDV's Art section won't disappoint.
Finally, Wizards of the Coast has an official card database called Gatherer. You can search on card name, card text, color, etc. For each match it shows an image of the card, the rarity, the casting cost, rules, tournament legality - it's really all there in this clean nifty-little tool. It's such a snap to use and and it's simply the best way to link cards to your friends, or to check the rarity of something you just pulled out of a booster.
Editor's note:
After playing against some Magic Online League players our inflated egos from yesteryear imploded, leaked between the floorboards, into the ground, and warmly nestled between the CHUDs and Richard Grieco's career. The people in Magic Online have been playing it for a while, and they are GOOD. Thankfully the game hosts a few casual rooms for those who like things 'a little less intense', and there are league games for those who think deck building is a science. The game entertains the full spectrum of skill levels; its one of the game's major strengths and it's what keeps us coming back for more.
Read More in: Collectable Card Games | Variants
Share this Article with others:
Related Articles:
Came straight to this page? Visit Critical Gamers for all the latest news.
Posted by Critical Gamers Staff at November 28, 2005 12:00 PM