Ravnica: Dissension Revealed
Magic The Gathering's preeminent themed block "Ravnica: Ciity of Guilds" hit store shelves last October. It included four Guilds - each a themed set of cards representing a color pair from Magic's 5 element colorspace : red, white, blue, black, and green. The initial installment focused on the parings of the Red/White Boros guild (power through order), the Green/Black Golgari (growth through death), the Blue/Black Dimir (focused on deck trickery), and finally the Green/White Selesnya (growth and order).
Then Guildpact was released. Expanding on Ravnica's base collection of cards, Guildpact adds three more guilds to the mix that serve to create a far more aggressive form of Magic gameplay. The White/Black Orzhov gain both power and life through their own death, the Red/Green Gruul combine quick attacks with sudden giant growth, and the Blue/Red Izzet rain-down direct pain through the manipulation of non combative game mechanics.
Guildpact is still in full swing, but so is Wizard of the Coast's design team; the first news of the final Ravnica expansion "Dissension" is reaching the official Magic the Gathering website this week.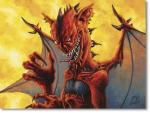 Lead Magic Designer Mark Rosewater's feature article "Seeds of Destruction" introduces the design team working on Dissension and summarizes the various philosophies of the three new guilds. The demonic Black/Red 'Rakdos' gain physical power to damage their opponent through death and sacrifice. The White/Blue 'Azorius' guild created the laws of the fictional Ravnica world, and so their goal is to win through the manipulation of game rules. And the Green/Blue 'Simic' are backyard chemists who evolve and augment living organic substances, to create powerful creatures which grow powerful over time. The new game rules Hellbent (Rakdos), Forecast (Azorius), and Graft (Simic) have only been announced in name thus far, but it doesn't take much imagination to guess how they might play-out given the three guild's philosophies. Finally, the article unveils one of Dissension's new rare cards, the Experiment Kraj which has gotta leaves quite the stank in Simic's cafeteria.
The other article of interest is Rei Nakazawa's "Dissension in the Ranks". This article treats us with descriptions of the guilds' various mindsets, and also introduces the Rakdos the Defiler. Granted, the Rakdos art is a bit of a Peter Jacksion Balrog ripoff, but damn he's sexy in that 7/6 flying trample "I'll swallow your children and crap-out round torment pies" sort of way.
Wizards of the Coast will host a Dissension Worldwide Prerelease event on April 22nd and 23rd. Dissension officially launches this May. Will keep you apprised of more interesting news as it's published over the next month.
Read More in: Collectable Card Games | Gaming News
Share this Article with others:
Related Articles:
Came straight to this page? Visit Critical Gamers for all the latest news.
Posted by Critical Gamers Staff at April 11, 2006 9:51 AM