WoW TCG Molten Core Raid Deck Hands On Part 2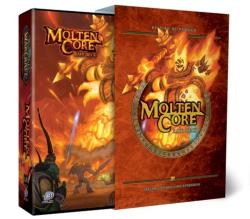 When sat down and talked about running through the World of Warcraft TCG Molten Core Raid Deck [Amazon,Shopzilla], with a party of five heroes, we unanimously decided to make a true challenge of it and go for the entire raid experience. That meant downing each of the raid's 10 bosses in a row, without rest, or heals, or reshuffling of decks. We were going to tackle this thing like a Forza 2 Endurance Race.
But the first night [part one] went much slower than anticipated. We were thinking the whole raid would be a three hour affair. But with five of us playing heroes, and a sixth pulling the strings of the Molten Core bosses and cannon fodder, the night stretched, and stretched, and stretched on and on, until we decided to call it quits 3.5 hours at 11:00pm. So we packed things up on the fifth boss - Baron Geddon.
We reconvened a week later for the final push. The group sat down, cracked some beers, setup the board as it was before, and in forced march sitting we put our heads down and pushed through the five remaining bosses: Shazzrah, Sulfuron Harbringer, Golemagg, Majordomo Executus, and the king of the first pits Ragnaros. Here's how evening two went down from th e perspective of Russ - the Critical Gamer who we placed in charge of running the Molten Core raid experience.
Chapter the Second:
When we last left the scene, our heroes were plumbing the depths of the Molten Core and having little trouble doing so. Baron Geddon has just become Baron Get Gone, and sadly he was unable to produce his patented 'human bomb' before he succumbed to the sword of the adventuring party. But with a new boss coming in, and this being the "back five" of the Molten Core, I was optimistic that perhaps the power of the core would be fulfilled, and I could get those heroes running for their lives!
Boss number six is all mighty Shazzrah who has the fun outside-the-box play ability which allows you to drop his large format card from above the table and do damage to every ally and hero he touches. This came into play right at the start, and I was able to dish out a quick 5 damage to the mage I had already been concentrating on, and to his Plagueborn Meatwall which had been a thorn in my side for so long. At least I had that unfulfilled five damage that Geddon didn't live long enough to enact. But - Sadly again - only one turn was all Shazzrah would see. Another boss down without much of a fight.
Boss number seven, I had high hopes for. Sulfuron Harbringer came into play with four healing allies. Surely with his heavy hitting jabs, and four healers in his corner with decent health, Sulfuron was gonna bust out some trouble! Additionally, although the players quick dispatched Shazzrah, the players solely focused on him and him alone, which left a few of his minions on the table. This included the first appearance of a Molten Giant, who's 1 health and attack were bolstered by the +6 due to the six runes that now lay out in play! My frosty punching bag named 'Mage' was looking ripe again, and though he had managed to put out a protecting Ophelia Barrows, I was undeterred. Out from my hand came a Magma Shackles card to exhaust Ophelia, and Sulfuron was able to slip through the defenses and take a swing at the mage. On the heros' turn however, the mage and his pals sucker punched back.
First the mage busted out the dreaded Inventor's Focal Sword, the bane of WoW TCG players everywhere, and with it he moved the Magma Shackles onto one of My own Priests (who was already tapped). This of course meant I couldn't get any more healing out for Sulfuron. In addition, our friendly neighborhood paladin busted out a Undaunted Defense, which basically meant that every time I went to attack the mage with Sulfuron, the Pally jumped out and protected him at no cost to himself. Add all this insanity to the fact that my big and brutal looking Molten Giant was turned into molten nothing by a Coup de Grace from the rogue.. and I was a Sad panda. By the time all of this was over, yet again, no hero had died, and Sulfuron Harbringer was laid to rest.
Boss number eight, and surely he would be my big hitter. In the WoW MMORPG Golemagg is no pushover. He hits hard, and he has two invincible Core Ragers hell hounds who can dish out some reasonable damage. Also, I was clever as I saved two Flames of the Incinerator to use for 3 extra damage each since I knew Golemagg was coming out. And guess who was my main target? Why our friendly neighborhood ice cube mage of course! So several attacks later, and my Core Ragers were out, the mage was being incinerated, and the Magma Shackles was on another of the hero's allies. Yes those cleaver hero's had moved it to one of their own allies when they killed Sulfuron's shackled priest, so now they had that ability card to float over one my allies at the earliest possible time. I figured that with all of the potential targets for that stupid focal sword, the mage would at least take another 4 damage, and likely my dogs would not get shackled. Guess again. The mage moves one Flames o'Incinerate onto Golemagg, and then the pally comes along and plays a Cleanse on the mage to remove the other. So, while Golemagg lasted two turns, he was looking like a slag of rubble when turn three rolled around. In addition, he was forced to flip. You would think this is a good thing, but don't forget about that Incinerate card...
When Golemagg flips, he does damage to whatever does him damage. This is normally a good thing. But because of the incinerate on him, he would do damage to himself, which means.. he would do damage to himself... which means he would do damage to himself..... you get the picture. I was finally able to destroy the Focal Sword to thwart further nastiness, but it was too little and definitely too late. The heroes on the other hand, did nothing that whole turn, except gather their forces behind a protector or two to negate any and all attacks I tried. And on Golemagg's turn, he incinerated himself in a fiery cascade. Heroes: 8 Bosses: 0.
At this point I was getting frustrated and I just wanted to get Ragnaros out and see what he can do. One more boss to go though: the mamma's boy Majordomo Executus, and he wasn't much of a barrier either. His minions and allies did some damage, but then just as the mage was looking to finally be within an inch of his life, that damn Paladin performed a Lay on Hands to remove all damage. Meanwhile, the Druid had been playing more abilities - buffing himself with more cards than should be legal, and turning himself into some kind of giant, well armored, and very viciously clawed cat. Pan to his left and there was the priest building a wall of protectors, and then beyond him was the rogue stabbing and nailing a cheap shot on every mob and boss that got near him. Poor Majordomo never knew what hit him. When his last ally died, he called Uncle (hey a boss lived!) and thus starts the final, end-all boss fight: Ragnaros.
Rag enters play with his own deck, and fresh draw to fill a hand of 7 cards. He also starts submerged; this means he is essentially invulnerable, but the drawback being that the boss player cannot play any cards in the meantime. Sheesh. As if the heroes needed another whole turn to lick their wounds and sharpen their weapons, let alone give them a free crack at taking out the few minions who "spawned" into existence after the defeat of Majordomo. And as you can imagine, the players used this interlude well, and they easily dispatched all the minor forces between them and Ragnaros' home in the fiery pool.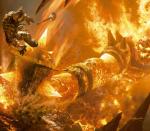 Finally Ragnaros emerged from his pit, and with him finally in play I was ready to unleash some fury from his deck of uber cards. And thankfully Rag had it in him. On my first turn I managed to play two Lava Splash cards, and one Flames of Sulfuron. This was all directed at that goody-goody paladin, because he was seriously pushing my buttons with his holy smile, shining equipment and zealous healing abilities. Enough was enough, and Rags hammer came down on that Pally's square head. When it lifted again there was only glowing jelly and a pair of boots. Scratch one Hero off the list.
The Heroes went next, and did a surprisingly large amount of damage directly to Ragnaros, the majority coming from the druid and the rogue. That pesky mage even got a few potshots in to boot, but by now his tricks seemed spent. Turn three then rolled around, and the rules said that Ragnaros was set to submerge again. But no respite for the Heroes during this submerging, because his Sons of Flame came out to bust some heads (with a useless ferocity ability since they come out at the end of the turn). Of course they were summarily hacked apart over the next full turn but they did some damage.
It was my turn again and Ragnaros re-emerged with about 4 sons left at his feet. In his first act he managed to melt the rogue's equipment, and in another minor victory he killed of the priest with another Flames of Sulfuron. Two down. Three to go.
The heroes were not fools however, and they refocused all if their attacks on Ragnaros - ignoring the Sons of Flame in a last ditch effort before Rag picked up his hammer again on turn four. He had already taken over thirty damage over the the first three turns, and so it wasn't far into turn four that a final swipe of cat claw did him in. Ragnaros - the fire god - was slain.
He had been able to unload some serious firepower with his first hand, and he had the 8 runes to power it. But after that, even while holding a Fury of the Firelord, I just couldn't get enough resource to put it in play.
And with that, the loot was obtained and divided up, and even I got to get a loot or two. At least Rag didn't go home empty handed :)
Conclusion
Be sure to tune in next week as we break down elements of the game and drop our opinion about how the Second WoW TCG gaming experience shapes up. Those of you who remember our dealings with Onyxia will recall that she was a bit too easy to bring down. Does the Molten Core Raid Experience kick the whole thing up a notch, or is it againf ar to easy to game against?
We'll let you know in our analysis next week!
Read More in: Collectable Card Games | Our Game Reviews | Party Games | World of Warcraft TCG
Share this Article with others:
Related Articles:
Came straight to this page? Visit Critical Gamers for all the latest news.
Posted by Critical Gamers Staff at June 22, 2007 10:47 AM