Battlestar Galactica CCG: "Focus on Resources"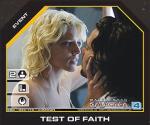 The official website of the upcoming Battlestar Galactica Collectible Card Game has posted their second feature article "Focus on Resources" which discusses the game's resource-card mechanics.
Think of resource production in BS:G as your faction's ability to gear-up for war. Your main base (the Battlestar Galactica, for instance) will be your major production house at the start of the game. Each turn it'll produce some of the game's various resource types (3 in all) which you spend to bring more cards into play.
Some of your other cards will be specialized production houses of their own that add to your resource-pool each turn. These production centers are important since you'll need their extra oomph to play the game's beefier, more powerful cards.
If you find yourself in a resource rut, then you can also discard any card from your hand and place it face-down underneath one of your existing resource producers. This destroys your discarded card for all intents and purposes, but grants that resource production stack a +1 bonus on all subsequent turns. You can continue to grow any one or you stacks by repeatedly burning cards to boost its power.
From "Focus On Resources" In the Battlestar Galactica™ collectable card game (CCG), controlling the flow of resources is just as important. There are three resources: persuasion, logistics, and security. Persuasion is linked to the decisions made by influential individuals, and it also illustrates the insidious plans of the Cylons. Logistics covers the management of supplies and equipment. Security is primarily the projection of military force, using fighters, scout craft, and heavily armed pilots and marines.
The game's mechanics seem to be shaping up quite nicely. We now have fewer questions about gameplay, but the ultimate question still remains: Does the game have enough content and twists to be a fun game for the long-run.
We need to see more cards to answer this question. Unfortunately, the official site's card gallery isn't up yet.
Inquiring minds want to know!
Read More in: Collectable Card Games | Gaming News
Share this Article with others:
Related Articles:
Came straight to this page? Visit Critical Gamers for all the latest news.
Posted by Critical Gamers Staff at March 28, 2006 4:35 PM