World of Warcraft TCG: "One Card at a Time" Class Roundup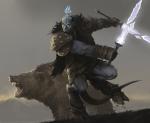 The World of Warcraft TCG has a lot going on between the nine different classes a player can create a deck around. Thankfully Ryan O'Conner, staff writer at the Official World of Warcraft TCG Website, has been hard at work writing his One Card at a Time series which breaks down key elements of each of the various hero types.
Granted that at this point in time we're pretty sure that WoW players are pretty good at controlling their favorite class. But we also assume that serious players like you have stacks of cards in reserve that could be used to build alternative hero decks. This series will get you started with building a deck for a hero that you might no know from head to toe; not only profiling the card stated within the title, but also detailing other class-specific and ally cards that you should use in conjunction with it.
Enjoy!
One Card at a Time Class Articles (in reverse chronological order)

Read More in: Collectable Card Games | Gaming News | World of Warcraft TCG
Share this Article with others:
Related Articles:
Came straight to this page? Visit Critical Gamers for all the latest news.
Posted by Critical Gamers Staff at January 23, 2007 9:40 AM